This is a senior's guide to enjoying the outdoors, giving you tips on what to wear, which activities to get involved in, and how you can plan your trips.
Older adults may feel lonely because they are disconnected from other family members and children. Sometimes chronic illnesses like cancer, arthritis, or mobility issues force them to stay indoors. 
They start cutting relations from the outside world, making them feel isolated, depressed, and sad. Social isolation is extremely common among older adults.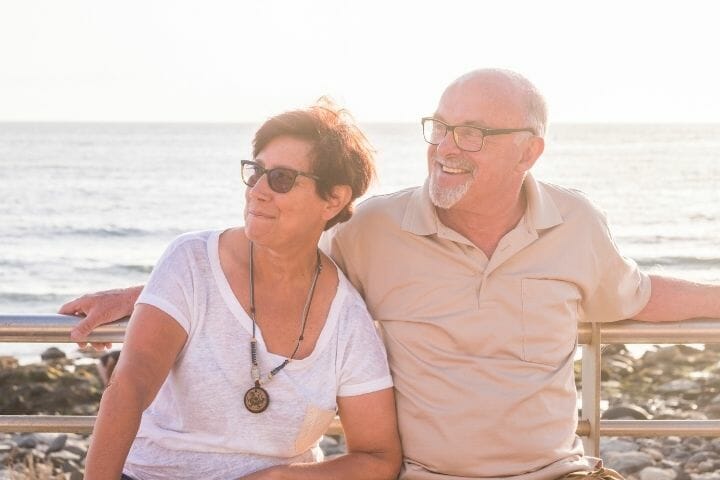 Have you ever noticed how you feel after spending some time outside for a while? Getting outdoors will work as a tonic for the physical and mental health of older adults, provided they should take appropriate precautions to prevent health problems that arise from exposure to heat, winter, bugs, and other things. 
Additionally, nature lifts the mood of senior people and helps older adults to stay active and make new friends. This article is a seniors guide to enjoying the outdoors; read on to know everything you need in order to enjoy the outdoors.
What Are The Helpful Tips To Enjoy The Benefits Of Outdoor Safely?
#1. Stay Hydrated
Older adults should drink plenty of water to stay hydrated and prevent dehydration while staying outside. Additionally, they should eat plenty of fruits and vegetables because they have high water content. 
If an older adult doesn't take enough water during the day, their skin may become dry, or they may feel dizziness, nausea, and even have a headache.
#2. Try To Avoid The Hot Sun
In hot weather, an older adult can plan various activities like walking, gardening, swimming in the early morning, evening, or late afternoon. 
Try to spend time in the shade during hotter parts of the day; otherwise, you may have dysentery, sunstroke, vomiting, or feel exhausted.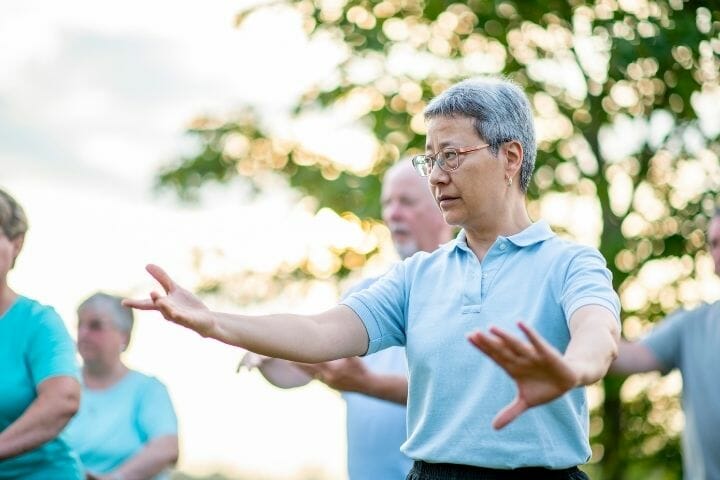 #3. Dress According To The Climate
Wearing proper clothes can make you feel comfortable while outside. If you plan to spend the summer months outdoors, you should wear loose-fitting, light color cloth with a wide-brimmed hat to stay cool in the scorching heat of summer. 
Again if you are planning to spend time outside in cold weather, you should take a warm coat, mittens, scarf, thermal socks, and a pair of boots designed mainly to provide traction on snow and ice along with you. 
Keeping well covered prevents hypothermia(body temperature becomes too low) and frostbite(an injury caused due to freezing temperature, which can cause numbness or discoloration in exposed areas).
#4. Protect Your Eyes
Older adults should protect their eyes from harmful ultraviolet rays of the sun by wearing sunglasses. Sunglasses also help lower the risk of eye diseases like cataracts and various others. 
#5. Keep Your Skin Healthy
The skin becomes thin and delicate with age. Older adults should apply sunscreen with a sun protection factor greater than 30 (SPF-30) on exposed parts of the body to prevent sunburn, skin damage, and cancer.
#6. Avoid Insect Bites
You can avoid insect bites by wearing a light color smooth finish dress. You can apply insect repellent before going to any wooded area where you may encounter many insects.
#7. Think Ahead About Your Safety
You need to carry your identity card with emergency contact information along with you. Additionally, bring some cash and keep the cell phone with you. Avoid talking over the phone and keep the headphones' volume low while walking. 
Another thing you need to keep in mind is that you need to inform your family members about the places you intend to go to and possibly time to return home.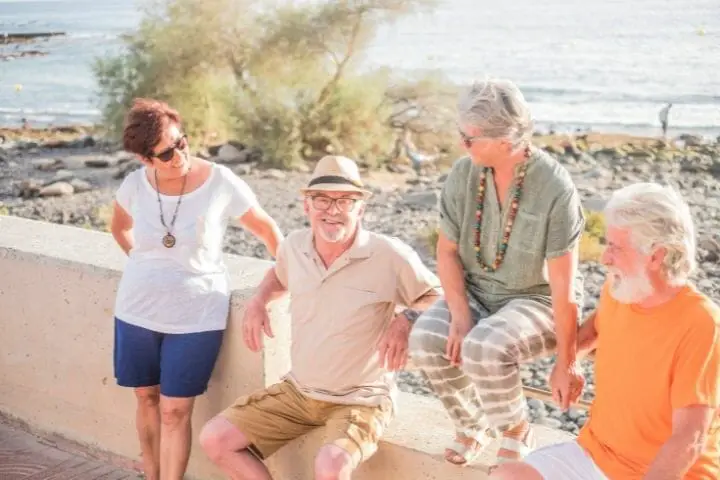 #8. Take Medicines
Don't forget to take your medicines while going outdoors; otherwise, it may hamper your health badly.
#9. Watch The Signs Of Heat Exhaustion
If you observe any signs of heat exhaustion like nausea, vomiting, or headache, stop the outdoor activity right away and move to a cool shade.
Spring Time Activities For Seniors
The springtime brings an opportunity for older adults to go outside and enjoy the fresh air after enduring the harsh winters. There are various outdoor activities that seniors can enjoy in springtime. I am listing a few of them below.
#1. Plan For A Picnic
A picnic is a classic way to spend time outside and enjoy sunny weather. You can choose to have a picnic in the park, patio area or some lovely places in your locality. Planning for a picnic does not need a lot of packing. 
You can pack some foods like sandwiches, fruits, potato salad, and a picnic blanket. Try to take your water bottle to stay hydrated all time. You can ask your friends or family members to join so that you can enjoy the sunny weather together.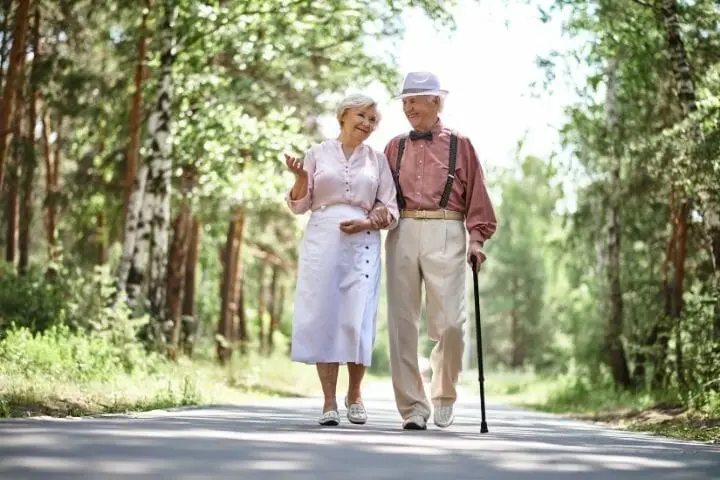 #2. Walking
An older adult should stay physically active to combat various symptoms of illness. It even boosts energy and increases your independence. One of the great ways to stay active is by walking. 
The springtime is perfect for an older adult to walk in a park nearby. Walking allows you to enjoy seeing the scenery around you and get some fresh air, which is vital for older adults' health.
#3.Golfing
Golf is an ageless game with numerous benefits. It helps in increasing muscular strength and improves the functions of the heart. Golfing is a great way to stay fit physically and mentally and socialize with others. I think springtime is perfect for older adults to play golf.
#4. Gardening
Gardening is an excellent form of exercise. It helps in reducing stress as well as improving strength and endurance. You can invite your friend or neighbors to plant trees in the garden with you. I am sure you will feel calmer, more relaxed, and proud when the plant grows up in your garden.
#5. Cycling
Cycling can improve the functioning of the heart and immune system. It even strengthens the muscles of the body. Springtime is best for cycling. Senior adults should go cycling along with near and dear ones, which helps in increasing social relations.
#6. Feed The Birds
Once you hear the chirping of birds, you will know that spring has arrived. It's very relaxing and entertaining to see different types of birds in your garden or near the window. You can hang a bird feeder in your garden and feed the birds from time to time. 
#7. Get Nostalgic
If you don't have mobility issues, I suggest you go outside and do numerous things that make you enjoy your time with your grandkids. For instance, you can fly kites or search for four-leaf clovers with your grandchildren in the springtime. 
#8. Consider Going To Farmers Market
You can go to the market to bring fresh fruits and vegetables for you and your family in springtime. It is a great way to stay physically and mentally active.
#9. Photography
Photography is another great outdoor activity that seniors can do to feel relaxed and enjoyable. You don't need to be an expert in photography. You can capture a picture of the surroundings that inspire you the most and preserve it for memories.
#10. Camping
Camping is an excellent option to spend time outdoors for older adults. It helps in relaxing both your body and mind. But you need to do a lot of planning before going camping. 
You have to prepare a camping list that includes essential items like a tent, waterproof tarp, brush for cleaning, mat for the tent entrance, sleeping bag, blankets, bedsheets, and cooking utensils like Firestarter utensils, bowls, and various others.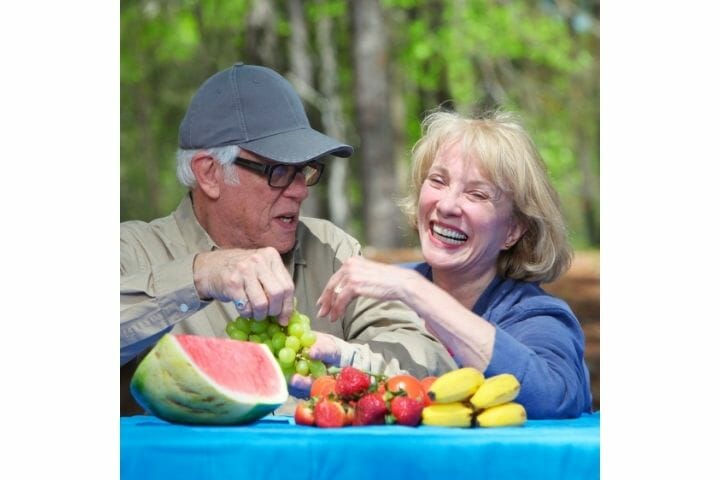 Winter Time Activities For Seniors
The immune system gets weaker with age. The bones even get fragile, and the muscle strength decreases. So, seniors can find it challenging to spend outside on winter days. But several outdoor activities are not only safe but also help in improving physical and mental health. I am listing a few below.
#1. Cooking Outside
Cooking outdoors can not have lots of fun with the near and dear ones but also helps improve the mental health of an individual.
#2. Explore The Winter
You should explore mother nature even if the weather has turned chilly. Some locations are usually blanketed with snow. 
You can walk a few miles just to see the beauty of nature. You will have the opportunity to see others and stretch your legs, which is beneficial for physical and mental health.
But you should make sure to wrap up in winter clothing. You should protect the exposed parts like your hands, head, and feet from the cold.
#3. Enjoy Time With Your Family
There are various ways to enjoy yourself with your family members outside. You can simply play a game of catch with the younger members, or you can help your grandchildren in building a snowman. You will have fun and have a good impact on your physical and mental health.
#4. Visit An Outdoor Attraction
It may be a surprise to some people that several beautiful, attractive places that are open in the summer months may also be open in the winter. 
For instance, you can go to a botanical garden with some of your friends or family members. You can enjoy the greenery and see different winter birds, which are sure to refresh your body and mind.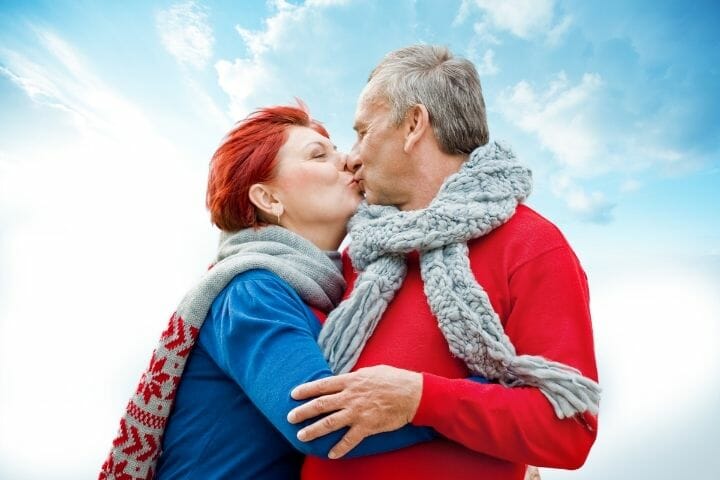 #5. Go To Beach
The seniors who live near the beach usually stay away from it during cold winter months because they think that the beach is for soaking in the sunshine and dipping in the water. 
You can spend some time on massive stretches of sand without going inside water in cold months, which will have a refreshing effect on your body and mind. 
Try to pack a cup of tea or coffee while spending time on the beach and viewing the waves on the water. It will be rewarding for the body and mind.
#6. Get Wet
You will not like to dip inside an unheated pool on a winter evening. Well, many spas have a hot tub available. Dipping in a hot tub is very beneficial for older adults. 
It helps loosen tight muscles, reduces backache, lowers blood pressure, and reduces arthritis-based pain. It is an antidote to stress, aches, and pains throughout the body. Additionally, it is a perfect opportunity to catch up with your friends or family members.
#7. Watch a Movie
You can watch an outdoor movie in your backyard with your family or friends. I am sure it will create memories that will last a lifetime. You just need a big screen TV and some warm blankets. 
Well, you can go one step further by hiring a projector so that you plug it into your laptop and speakers. Hang a blank sheet on a blank wall of your patio, and the result will be an outdoor theater! 
Outdoor Activities For Senior People In Wheelchair
Older adults who are restricted to a wheelchair can do various activities outside to keep themselves from getting bored. I am listing here some of the ideas that you can try.
#1. Indoor Shopping
You can go to malls, farmers' markets, or grocery stores. There is a lot to see in these markets. You can go with your caregiver and spend one or two hours. You will feel better both physically and mentally.
#2. Dining And Entertainment
You can go to restaurants or coffee shops with your near and dear ones. You can also go to a theater near your location. I am sure you will have lots of fun and reduce your stress level, which is essential for your health.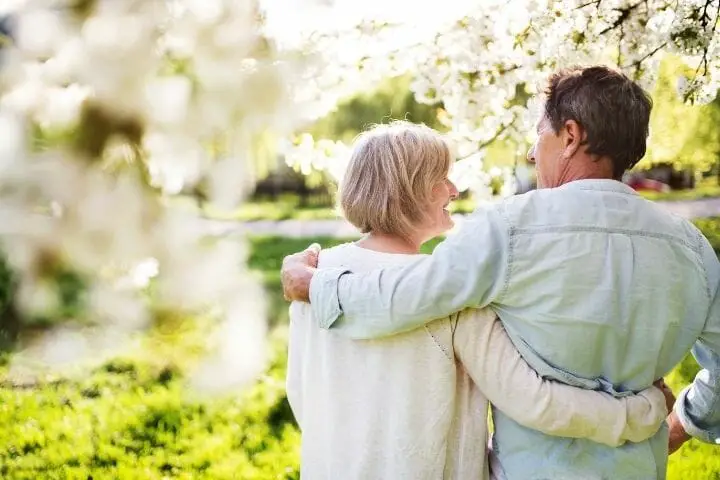 #3. Dock Fishing
You might think that you can't fish anymore if you are in a wheelchair. Not so! You can easily do it sitting in your wheelchair by fishing at a dock.
#4.Star Gazing
Stargazing is an excellent outdoor activity for seniors in a wheelchair. You can set up a telescope and watch the stars in the sky. It is a beautiful activity which will give you a lot of enjoyment.
Outdoor Activities For Seniors With Dementia
Dementia is a disease in which the person struggles with loss of memory, language, problem-solving, and thinking ability which interferes in day-to-day life. 
There are different levels of dementia, which is why it's challenging to figure out outdoor activities that are safe for a dementia patient. 
Secondly, dementia patients cannot be left alone because they often tend to wander and become lost. So, seniors with dementia should always be accompanied by friends or family members if they are going outdoors.
I am listing a few outdoor activities that seniors with dementia may do to improve their physical and mental health.
#1. Pet Farms
Visiting pet farms and watching pets such as cats and dogs is an excellent outdoor activity. You can also visit friends who have pets in their house.
#2. Gardening
Gardening is another outdoor activity that is perfect for keeping your mind occupied and active. I think container gardening is one of the best ways for people with dementia to spend some time.
#3. Walking
Walking is another excellent outdoor activity that helps improve the physical and mental health of patients. The caregiver can take them outside for a slow walk and stroll around the park or a nearby trail.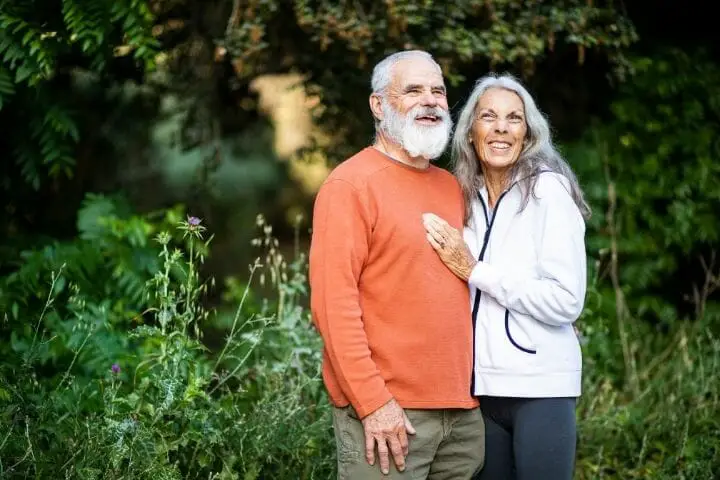 Getting Outdoors Improves Brain Health
Recent studies have shown that the kids who spend some time playing outside tend to perform better in school. The same concept applies to older adults. It provides a boost to the mental health of the aging adult.
Some seniors cannot do physical activity after going outdoors because of either chronic illness or mobility issues. I suggest they simply go with the caregiver and watch the change in natural scenery and smell the freshly-cut grass. 
It will have a positive impact on your body and mind. Here are some more excellent benefits of visiting mother nature:
#1. Increase Vitamin D Production In Body
Older adults spend most of their time indoors. So, vitamin D deficiency is quite common in seniors, which can cause symptoms like drowsiness, confusion, depression, and may cause schizophrenia. 
Older adults should spend at least 15 minutes outside every day to improve brain health and boost vitamin D production in the body.
#2. Improves Sleep Patterns
An older adult who does not have a good night's sleep often faces problems thinking clearly and making important decisions. Exposure to the sun helps produce hormones needed for sleep regulation in an older adult. 
Additionally, outdoor activities can make you more physically stimulating. Consequently, you will feel tired at bedtime and fall asleep very soon. An aging adult should sleep at least 7-8 hours to improve the function of the brain.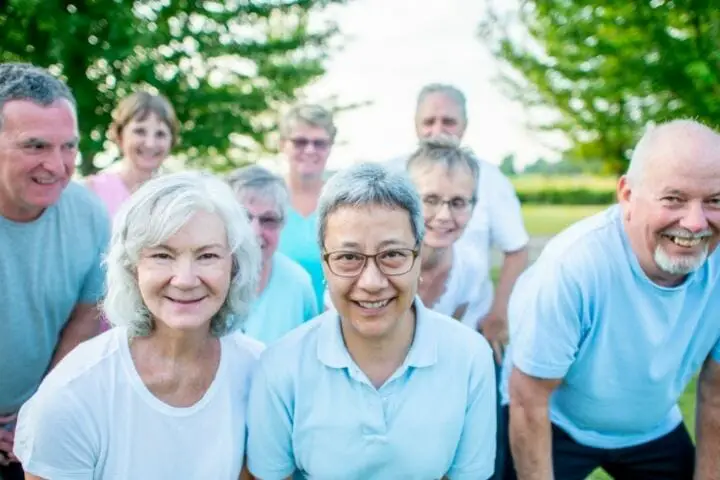 #3. Helps In Pushing Troublesome Thoughts Away
Most seniors live with anxiety and depression, which keeps them from focusing on their own wellbeing and daily tasks. For instance, an older adult may not focus while paying his bills because of worries. 
Spending some time outside can help relax the mind and improve brain health so that seniors can concentrate on the tasks and make crucial decisions.
#4. Keep Learning
Going outdoors is an excellent opportunity to learn new things and meet new people. An older adult can choose a new outdoor hobby like gardening, bird watching, swimming, playing golf, or anything that encourages improving intellectual activity.
#5. Increases The Blood Supply To The Brain
Outdoor activities like walking, swimming, or various others increase the blood circulation throughout the body of senior people. Senior people think better when oxygenated blood makes its way to the brain.
Senior Guide To Buying Or Renting RVs
Recent studies have shown that travel is quite beneficial for old adults' physical, mental, and social health. But people above 65 years old usually avoid camping out or traveling because of physical illness or mobility issues. 
You can choose to travel in an RV (recreational vehicle), which provides everything needed for vacation. It doesn't sacrifice the comforts which you usually have at home.
RVs can be categorized into motor homes, campervans, truck campers, travel trailers, fifth wheels, and pop-ups. Motorhomes are the best options for senior people because they combine the vehicle and the living area in a single unit. Thus you don't need to hitch your living quarters.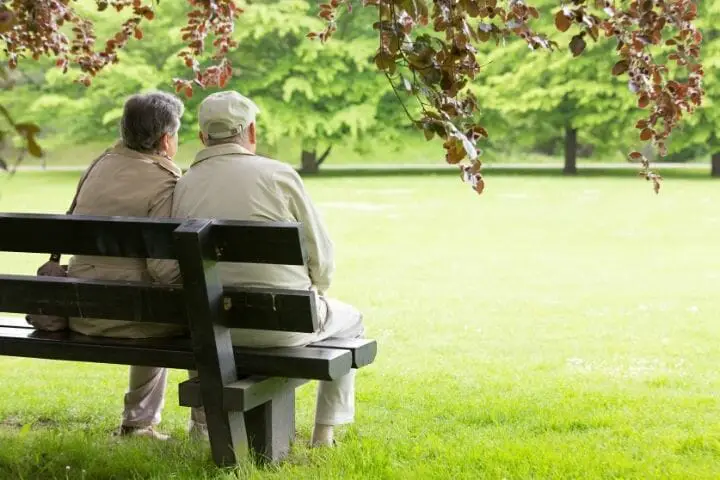 Additionally, you can easily tow a small car behind the motorhome and use the car when the RV is parked on the camping ground. Ample space in the motorhome allows the seniors to do their daily activities and sleep comfortably. So, in short, it has a lot of benefits. But the limitation is that they are a bit expensive, i.e., $50,000 to $100,000.
I recommend you to first rent an RV before purchasing to better feel about the size, layout, and amenities of the RV.
You should prioritize the safety features inside the recreational vehicle. If you are renting, try to find a recreational vehicle with no interior steps. Additionally, it should have a good handrail at the entry steps for safety purposes. Remember the entry steps should have anti-slip protection. Otherwise, you may fall.  
You need to make sure that the inside of the RVs should have a good lighting system. It has two advantages. The first one is that most seniors have eyesight problems. 
So, having good lights enables them to see things better. Secondly, seniors can know about the miscreants approaching the vehicle.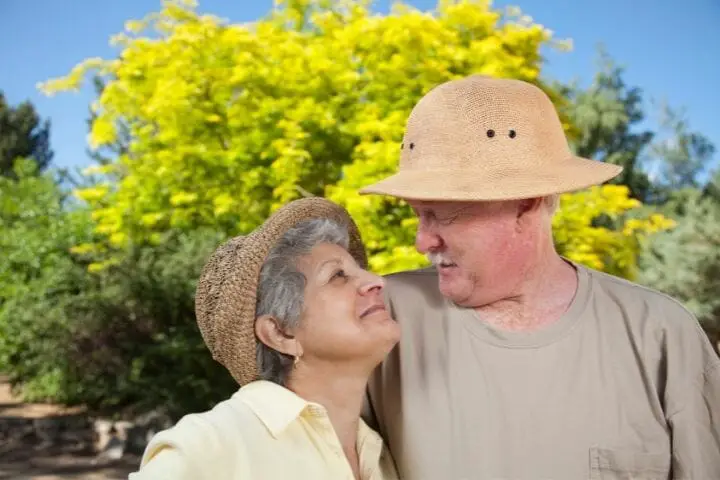 Wrap Up
Seniors get a lot of benefits by indulging in outdoor activities, like it improves bone health, enhances the immune system, and various others. But you should try to indulge in outdoor activities in groups, friends, or family members to increase social interaction and decrease stress levels.
Many people become confined to their four walls thinking that it's impossible to battle the bitter cold or rain. But I will suggest that seniors enjoy outdoor activities in almost all weather, including the rainy season. 
Standing under an umbrella and listening to the rhythm of rain for a few minutes can relax senior people's minds and bodies. So try to go outside whenever possible and enjoy mother nature.
I hope this article has given you helpful information. Please don't forget to share the article with the senior people confining themselves in four corners of the house because of illness and various others. You can also share some of the outdoor activity ideas and tips to help older adults reduce stress and anxiety.