A fast-growing aging population deserves ideas and startups that are focused on their specific needs. Let us look at senior focused startups to follow in the next few years.
By 2060, approximately 98 million Americans will have reached the age of 65. There's little question that many of these people will have employment since 27% of males over 65 are estimated to be employed in 2022. 
This shows that there is an apparent demand for enterprises that provide services to a fast growing senior population, including everything from entertainment to healthcare.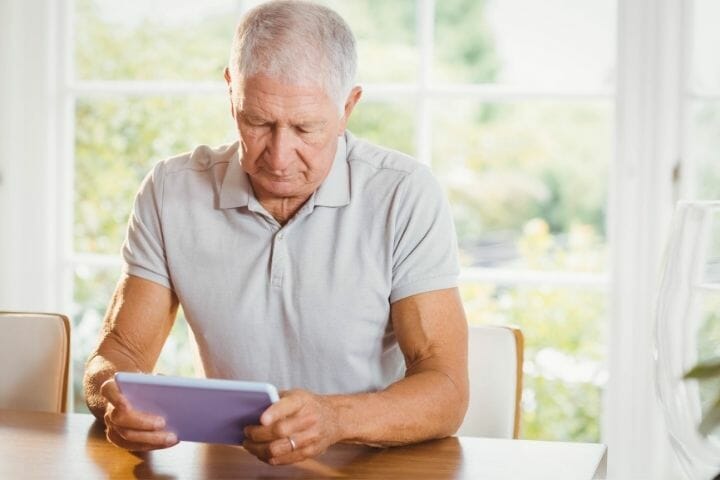 This post highlights the best Senior Focused Startups. Entrepreneurs in the eldercare business and worldwide are experimenting with a wide range of new ideas and techniques. All of these startups are excellent and worth following.
Startups Helping Seniors
In the field of aging, there are thousands of startups focusing on a wide variety of possibilities for helping seniors. But with that possibility comes uncertainty. As the number of startups has risen, so has the noise level. With so many enterprises providing cutting-edge solutions, how would you know where to begin?" Here's a list to help you begin-
#1. SteadiWear
Picture waking up one day and not even being able to eat or clothe yourself? This may seem like a horror, but it is the truth for the Ten million Americans who experience hand tremors due to Parkinson's and tremor diseases—a total of around 230 million individuals worldwide. Steadiwear is a glove that helps alleviate these essential tremors.
Here's a breakdown of the process. Wearers of the glove get immediate tremor alleviation because of a brilliant combination of nanotechnology and engineering. 
It's a similar technique to how buildings are outfitted with earthquake-proof equipment, which ensures that they remain operational in the case of a disaster. Artists could draw straight lines instead of squiggles, and users can pick up their beverages with no concern, thanks to SteadiWear Gloves.
#2. Seismic Powered Clothing
One of the primary reasons for social solitude as you age is losing movement, but company Seismic (previously Super Flex Tech) hopes to fix that.
The company has been working on its outfit for quite some time. It looks like a skin-tight suit from Blade Runner and is built to be worn beneath clothing. People who are losing power in their legs and hips might benefit from their futuristic designs.
It's like Spanx in a less striking form. The concept is that the exoskeleton's pads feature small motors that give your muscles a little extra kick when you're undertaking tasks like standing and sitting.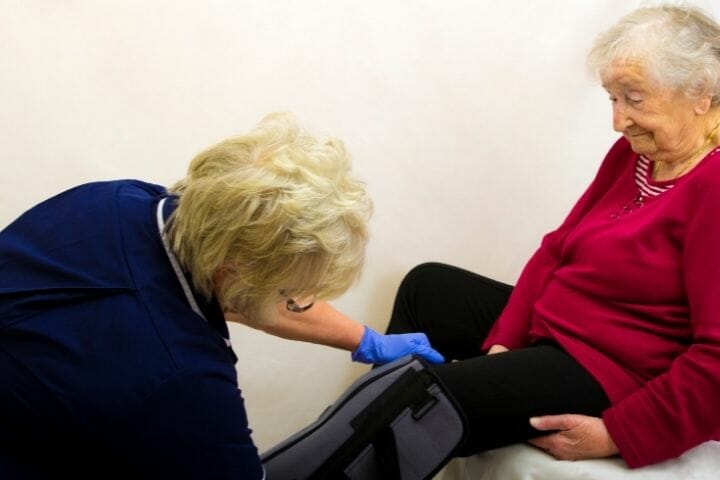 As with an electric bike, you'll still have to peddle, but the speed will be faster. The aim is to create a male and female version that is machine washable and accessible in 6 different sizes. 
As someone who has witnessed senior family members struggle to get up from a chair, we think this is a terrific idea that might change the way we think about mobility as we become older.
#3. Knee Braces From Spring Loaded technology
Movement is a major issue for people as they age; our bodies were not designed to live this long. Arthritis and other bone, muscle, and joint diseases cause joint pains while walking, to the point that one doesn't feel like walking anymore.
Spring Loaded Leg braces are made of carbon fiber and have a lifting capacity of 40 pounds. They are available in five standard sizes and may rehabilitate sports injuries and weak joints. People who don't want to notice their deficiencies might wear it over or beneath their clothes.
Founded in the summer of 2012, the startup collected around $2.5 million to bring this revolutionary product to market. In addition to providing shock absorption and muscular aid when the knee is bent and straight, the bionic hinge increases strength and joint compression, allowing individuals to have more active lifestyles.
#4. Rendever
The notion of a place full of grandparents swaying around with VR headsets on seems like the start of a horror film, but Kyle Rand, Founder of Rendever, sees it differently. 
This is a wonderful method for folks who have limited movement to enjoy the globe, from the Great Wall of China to the Pyramids of Egypt, all while sitting back in their chairs. Rand was motivated to develop this after his grandma entered a nursing home, and he saw how limited her lifestyle had become.
Here's how your older loved ones can experience this tech. Virtual reality experiences that can be updated remotely are loaded onto a tablet connected to several VR headsets and then rented out to elder care facilities. 
With the 360-degree-video nature of the experience, many seniors will be more active than they normally would, turning in their chairs and moving their upper bodies. 
Previously this year, the startup earned the prestigious MIT Innovation Healthcare Prize. Hopefully, this will lessen the loneliness and isolation that more than half of the older people endure in their own homes.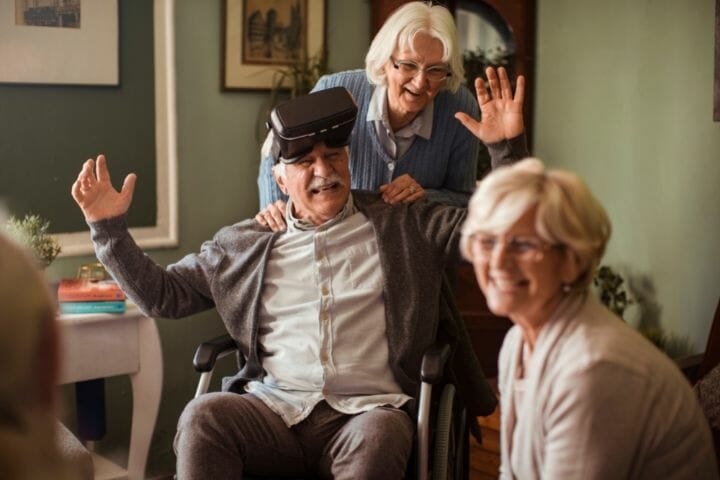 #5. Birdie Remote Monitoring Platforms
More than 90% of older adults want to age in their own homes. With the use of digital applications and linked devices, the healthcare industry can better serve these elderly by facilitating the exchange of information and communication between healthcare providers, families, and individuals. 
Families may keep tabs on their senior loved ones' health and wellbeing at any time of day or night, thanks to the use of remote sensors.
Birdie Remote Monitoring Platforms are a care platform that caters to the needs of elderly people who choose to remain in their own houses independently. 
Apps and linked gadgets are part of their approach for tracking wellbeing. The remote sensors are also used to build health analytics technologies by the firm. Its algorithms keep tabs on patients' health, foretell problems that may escalate, and notify those in charge on time.
#6. AssistMe
Elderly people can live more freely and comfortably in their homes thanks to healthcare smart technologies that make routine activities easier and reduce the need to get out of bed. 
In addition, they keep track of a patient's movements, falls, and most important vital signs, as well as their prescription compliance ( blood pressure, temperature, glucose levels, etc.).
One common problem that older adults face is urinary incontinence. AidMate, a linked care system for seniors, is being developed by AssistMe in conjunction with their smart absorbent trousers. 
A caregiver may use the information provided by the system to ensure that a patient's trousers are changed on time, restoring their dignity and reducing their risk of contracting an infection. 
Algorithms can identify and anticipate crises, aberrant patterns, and medical concerns thanks to the increasing quantity of data available and machine learning.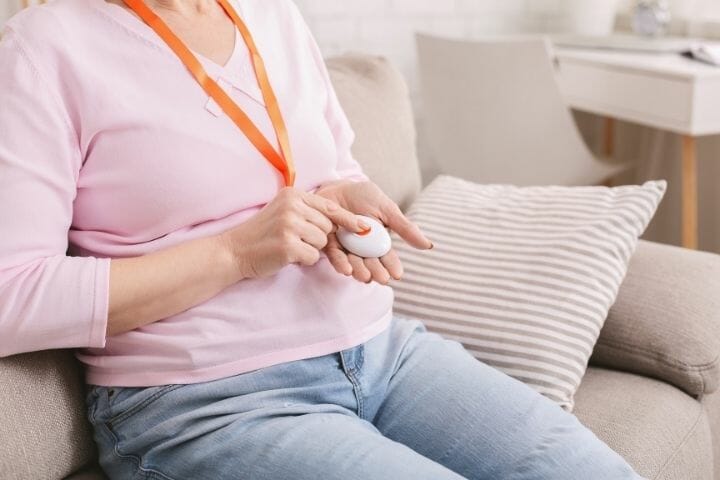 #7. CarePredict 
Analyzing current and historical data to generate predictions is the purpose of predictive analytics. This implies that caretakers at senior living facilities can detect infections even before symptoms appear. 
In addition, the correct technology streamlines this process even further, tracking everything from seniors' energy levels and mental wellbeing to movement, delivering the complete snapshot of overall health.
A wristband with a microphone and speaker developed by CarePredict called Tempo is equipped with sensors that monitor the user's activities of daily living (ADL). 
To locate the rooms where these activities are taking place, it uses Artificial Intelligence algorithms and wireless communication with beacons to pick up on ADLs such as bathing, grooming, dining, teeth brushing, and so on. 
Home care providers are alerted to changes in a senior's health that might indicate the start of a major illness, allowing them to intervene before the person is hospitalized.
#8. Zeppi
Video chats become video visits with Zeppi, a self-navigating aerial balloon. To alleviate the loneliness felt by the elderly, this firm uses video visits that appear near-realistic. 
As a result of the Zeppi family, caregivers may simply "drop in" for spontaneous discussions, visual checks, and rapid consultations on the tens of difficulties that emerge each day. 
It's easy to stay in touch with professional carers using Zeppi, and it's even easier to attend appointments, get comfort that everything is fine when calls and texts go unanswered, and help with everyday chores like changing the station on the TV.
Caregiver visits, visual checkups, or fast consultations may be done from anywhere with no effort, thanks to an aerial balloon with a life-size HD screen, self-positioning camera, and audio components.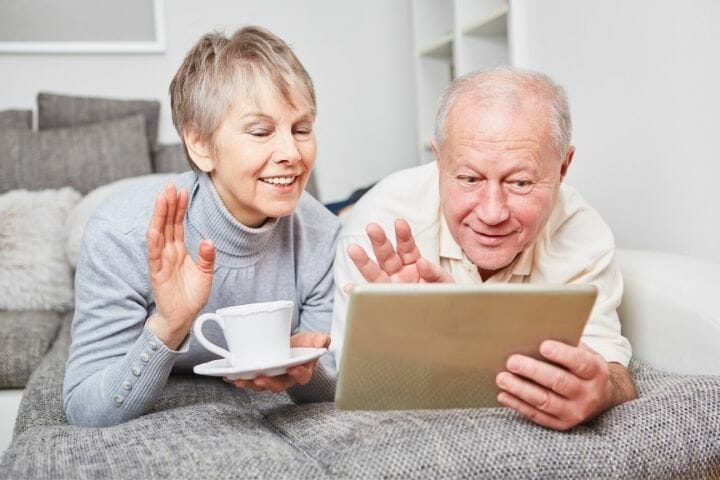 #9. KareInn Data Management System
It is impossible to detect weight loss, sleep disorders, or other symptoms of diseases with a traditional method unless you use a smart system for care planning and tracking. 
The technology includes real-time alerts, paperless records, and sickness history. It reduces unnecessary risks, resolves escalating difficulties, and coordinates better-personalized care operations.
KareInn provides a SaaS platform that digitizes patient data and staff activities, allowing care facilities to gain increased visibility, enhanced compliance, and improved consistency and safety of care. 
Care home data provides exclusive insights that help residents live healthier and happier lives by reducing hazards that you may avoid.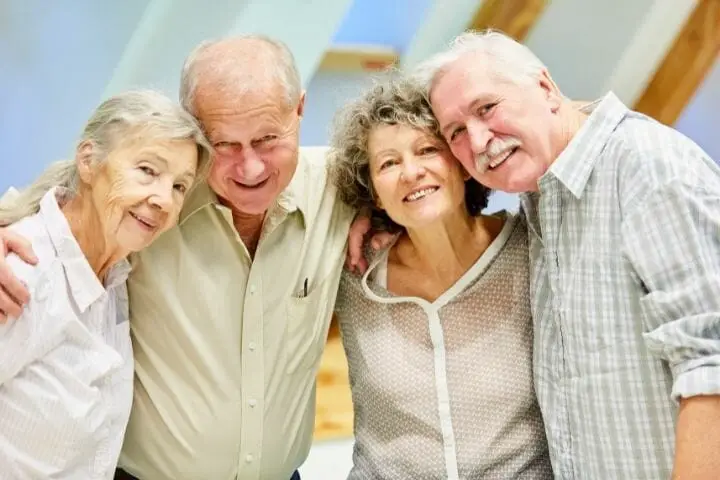 Wrap Up
Senior care is becoming increasingly important due to the Coronavirus pandemic. While it is critical to protect persons over the age of 60 from infection, it is also critical to provide them with the care and entertainment they require.
These startups are creating new products focused on this large and growing market. They are solving problems that we hitherto thought were unsolvable!
Please let us know if there's anything you think we've missed or if you have any suggestions for how we can improve this guide. Please share it with others and mention us on your social networking sites if you like the information.