Are you or a loved one considering moving to a nursing home? Please read our detailed guide about the services at a nursing home, costs, and what to think about before making a move.
If you or an elderly family member has an injury or illness that progresses to the point that they need medical and custodial care throughout the day but don't require hospitalization, then, in that case, it's best to admit them to nursing homes.
Nursing homes have many benefits: they support you in doing your essential daily activities and managing your medication. You will stay with other older adults, and talking to them will help you manage your loneliness, stress, and depression. Nursing homes are quite affordable than staying in a hospital.
This article will guide you in choosing a skilled nursing home that suits your needs. Read on to get all the relevant information.
What Is A Nursing Home?
A nursing home can provide the highest level of care to older adults who have physical and mental issues and require almost 24 hours of nursing and personal care. The staff in the nursing home assists you in getting out of the bed, bathing, brushing, dressing, and various other daily activities, which you may not be able to do without assistance.
Nursing homes are quite different from senior housing facilities. They provide the highest level of Medical care outside an actual hospital. You may not be able to find this kind of care in senior housing facilities. 
Medical Facilities
In every nursing home, you will find a licensed physician who checks your health condition regularly. Additionally, there will be nurses and other medical professionals who are always available on the nursing home premises.
Nursing homes provide medical services like those offered in hospitals after surgery or illness. But you need to remember that nursing homes are not hospitals. You may not get the same intensity of care in terms of experienced doctors, in-house pharmacies, and diagnostics such as laboratory and radiology services. 
What you will find are primary care services like monitoring your heartbeat, blood pressure, catheter care, wound care, and various others.
Nursing homes also provide rehabilitation care after discharge from a hospital. The rehabilitation programs help you recover from chronic illness or accidents. You can stay in the nursing home till you regain mobility and can do all the essential daily activities like a normal person.
Nursing Home Services
The services offered by most of the nursing homes are:
24-hour care and supervision
Rehabilitation services
Medication management
Assistance in mobility
Complimentary transportation
Laundry
Nutritious meals
Housekeeping
Social activities
Skilled nursing care
Hospice care
Personal care
When Should I Consider A Nursing Home?
#1. When You Need 24 Hour Medical Or Skilled Nursing Care
If you have severe health conditions and need all-day assistance, you may need special care from healthcare professionals at a nursing home.
#2. Severe Mobility Issues
If you are confined to a bed or have severe mobility issues that hinder you from doing essential activities, you require a nursing home.
#3. Balance Problems
According to the CDC, three million people lose their life in emergencies due to fall-related injuries. If you or your loved one is at the risk of falling frequently, it's better to avail yourself of the facilities of a nursing home, where you can get regular support, care, and attention.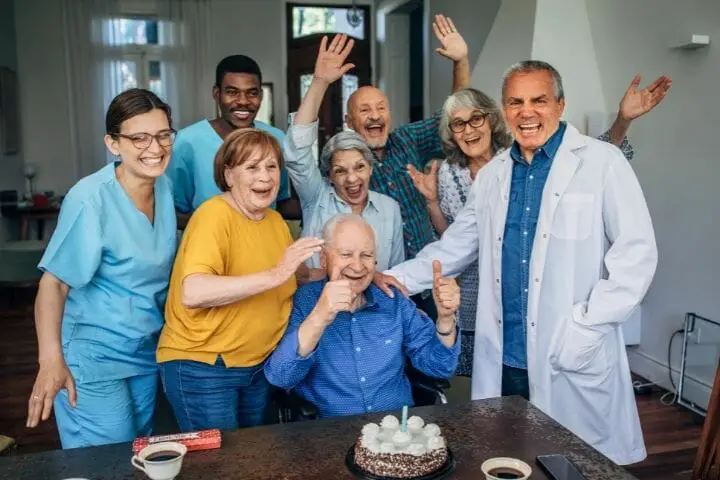 #4. Cannot Feed On Your Own
When you or your loved one cannot feed yourself, it's better to move to a nursing home.
#5. Consider Your Wellbeing If You Are A Caregiver
Older adults with cognitive issues or severe health conditions require full-time care from a professional health worker, which a family caregiver cannot give at home. 
Again, caring for a loved one full time can put you in stress, depression, and chronic conditions like heart disease or diabetes. 
So, if you feel that your health is deteriorating because of giving full-day attention to your senior loved one, then it's best to think about moving them to a nursing home.
How Can You Choose A Nursing Home?
Your health care provider may recommend a good nursing home. Again, you can visit the medicare.gov site to know about facilities in different nursing homes near your location that are covered under the medicare program.
Another way is that you and your family members can visit various nursing homes about the quality of care they offer to older adults. 
What To Look For In A Nursing Home?
Try to spend one or two hours in each nursing home so that you can meet and talk with the administrative department, nursing staff, director of the nursing home, and social workers. 
You need to pay attention to common areas while visiting any nursing home. They should be clean, have adequate lighting, and be free from unpleasant odors.
Another important thing you look into while visiting a nursing home is food and the kind of meals served. You need to remember that no nursing home is perfect. The services will indeed differ from one nursing home to the other.
How Long Can You Stay In a Nursing Home?
The length of stay in a nursing home varies from one senior adult to another. 
Rehabilitation
You can stay for a short term, i.e., three months or less, to recover from surgery, injury, or illness after staying in hospital. 
You will receive skilled nursing care, rehabilitation services, along with personal care and medication management. The rehabilitation services in the nursing home usually include the following things.
Physical therapy
Occupational therapy
Speech therapy
Social and psychological services
Orthopedic rehabilitation
Chronic Diseases/Cognitive Issues
If you suffer from any chronic disease or have cognitive issues, then you may stay in a nursing home for a longer period. The time duration may be one year or may go beyond it. Some patients even stay in a nursing home for five years. 
The long term care includes all the essential daily activities like bathing, dressing, dressing, feeding, and toileting.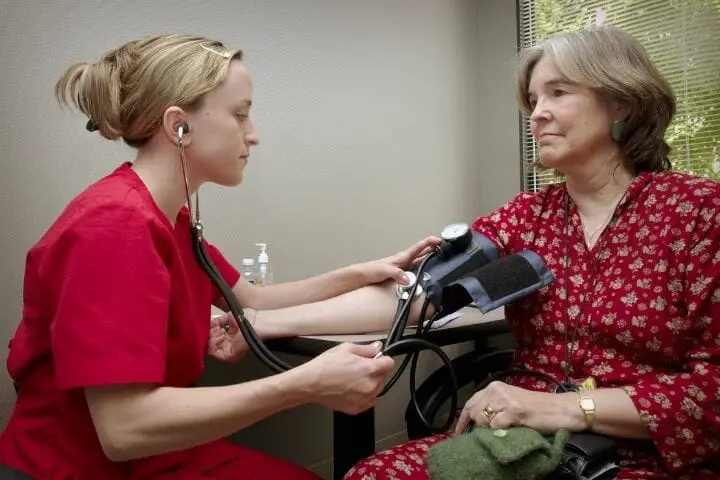 Difference Between Nursing Home Facilities And Other Senior Care Facilities?
Nursing homes provide more comprehensive services as compared to assisted living facilities and memory care facilities. In a nutshell, nursing homes are next only to a hospital in terms of the care that they can provide to you.
| | | | |
| --- | --- | --- | --- |
| Services | Nursing Home | Memory Care | Assisted Living |
| 24 hour care and supervision | Y | Y | N |
| Skilled nursing care | Y | N | N |
| Rehabilitative services | Y | N | N |
| Hospice Care | Y | N | N |
| Mobility assistance | Y | Y | N |
| Special care for patients with memory loss | Y | Y | N |
| Medication management | Y | Y | Y |
| Help in hygiene and personal care | Y | Y | Y |
| Nutritious meals | Y | Y | Y |
| Housekeeping and laundry services | Y | Y | Y |
| Social activities | Y | Y | Y |
| Exercises and wellness classes | Y | Y | Y |
Nursing Home Vs. Assisted Living
Nursing homes and assisted living to provide you with housing, meal services, and personal care. So, most people thought that nursing homes and assisted living are synonymous, but both differ mainly in two ways.
#1. Type Of People Who Choose Them
The senior people who stay in assisted living are generally active and independent and may or may not need assistance in daily activities.
The people staying in nursing homes suffer from chronic illness or mental disorders for which they need assistance for 24 hours.
#2. Focus
Assisted living communities focus on improving the quality of life through personal care and social interactions. Nursing homes focus mainly on the Medical care of the older adult admitted.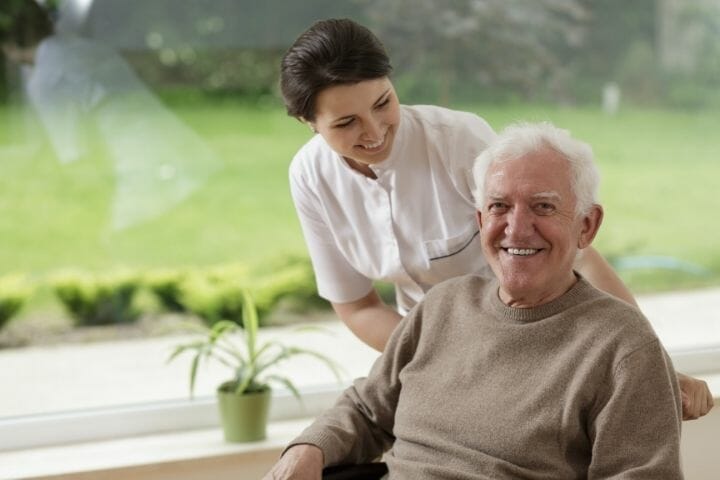 Nursing Home Vs. Memory Care
Both nursing home and memory care will offer you 24 hours supervision, assistance in doing daily activities, and providing nutritious meals. You might be forgiven to think that memory care is like a nursing home for people with cognitive disorders. However, there are a few differences.
#1. Type Of Service
Memory care facilities offer specialized services to those older adults who suffer from memory loss or any other mental disorder like Alzheimer's disease or any form of Dementia.
Nursing homes provide services to those old adults who have either physical or mental disorders. So in a nursing home, you will find different kinds of patients.
#2. Skilled Nursing Services
You will not find skilled nursing services in memory care which you find in a nursing home.
Nursing Home Vs. Home Care
Home care is health care provided by a professional caregiver in your home. It fundamentally differs from a nursing home facility because the home caregiver is not qualified for medical services. 
The home care aides help you in numerous ways like cleaning, aiding in essential activities, and cooking. Home care differs from a nursing home in the following ways.
#1. Skilled Nursing Care
Homecare will not offer you skilled nursing services like a nursing home.
#2. Cost
Home care costs might be high if you need a home care aide at any time of the day because the fees are charged hourly and the level of care required for those hours. 
Again, you have to do several costly modifications at home like wider doorways, walk-in showers for your safety if you choose to stay at home. Nursing home costs are low in comparison to home care costs.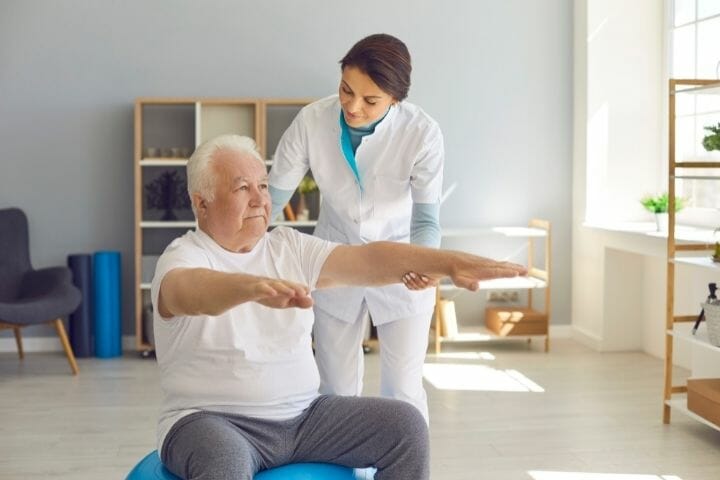 How Much Does A Nursing Home Costs?
The nursing home costs depend on several factors like its location and the type of care an older adult needs. The median monthly price of most nursing homes in the United States is $7756 for semi-private rooms and $ 8821 for private rooms.
The median cost of nursing homes is usually high because residents suffer from chronic health conditions or mental disorders and require more help and personal care.
Nursing home costs vary from state to state. For instance, if you stay in Hawaii or Alaska, you need to pay more for a nursing home than in the southern states.
How Do You Pay For a Nursing Home?
You can pay nursing home bills in various ways.
#1. Medicare
Medicare does not pay the costs covered by long-term care in a nursing home, but it covers short-term care or rehabilitation services. It may help you cover the cost of nursing home bills for yourself or an elderly member at your home.
#2. Medicaid
Medicaid may cover long-term care in nursing homes if you have limited income and resources. The eligibility requirements may vary from one state to the other. So you need to contact the Medicaid office nearby to make sure.
#3. Veteran Benefits
If you are a veteran, you may get benefits from the VA Aid and Attendance program to cover the costs of a nursing home.
#4. Bridge Loans
Short-term loans can help you pay the bills of a nursing home.
#5. Long Term Care Insurance
Long-term insurance may help you cover the long-term care costs at a nursing home.
How Do You Move A Loved One To A Nursing Home?
Moving an elderly member to a nursing home is quite stressful and emotional. You may feel guilty and worried about the move and wonder whether your senior parents will be comfortable. Taking a step-by-step approach can reduce anxiety and make moving to a nursing home smoother.
#1. Talk To Your Loved One
You should have regular conversations about elderly care with your older family members before an emergency arises. 
If your parents are in good mental health, you should talk about future planning. Planning will allow you to think about options, and you will get time to prepare for it. It's best if the person moving to the nursing home decides which nursing home is suitable for them.
#2. Planning For The Moving Day
You may feel stressed on the day of moving. It will be challenging for you. It's best to take the help of an expert who will help your loved one in transition.
You need to give importance to the space where your loved one will spend in a nursing home. So, before the moving day, ask the staff whether facilities like bedding towels, laundry services, television, and others are provided or not.
The new space of your elderly member should feel like home. So you can attach a few photographs of family members and their friends before they arrive. You can arrange their belongings to feel like they are staying at home.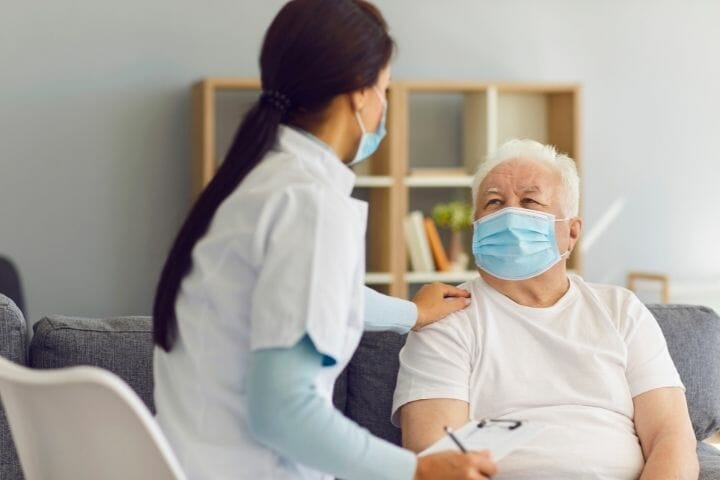 #3. Have Regular Contact
Try to have regular visits with the older adults who have moved to the nursing home. If you are staying far, frequent calls can make a big difference. Technology has helped us in keeping connected through video calls and chats; you should make full use of them to keep in touch.
Handling Your Emotions While Moving To a Nursing Home
#1. Remember You Are Not Alone
There is nothing shameful in being admitted to a nursing home. In a nursing home, you will find many residents just like you who are living out productive lives.
#2. Try To Be Patient
Losing your independence is not a sign of weakness. You may feel sad and frustrated about moving out of your old home. But don't label yourself as a failure. Try to have patience in overcoming the illness.
#3. Try To Be Open To New Possibilities
Try to open your mind to new ways to make your life easier and smoother. It will help you in coping with the situational changes. Sometimes new experiences can help you develop new friends or find new interests you have never considered before.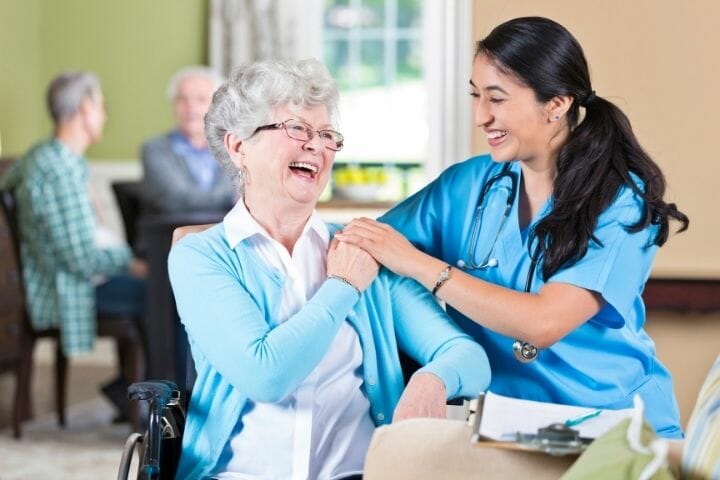 Wrap Up
Transitioning to a nursing home is quite challenging. The above tips may help you or your elderly member at home in moving to a good nursing home. I hope the article has given you valuable information, and please don't forget to share the article with someone planning to move to a nursing home. You can ask further queries in the comments section. 
If you loved our article, please feel free to share it with others who are in need of this information.