Stuck in a wheelchair but love to drive? Here's how to make your car wheelchair accessible so that you can enjoy your drive comfortably.
We use cars for traveling, shopping and for reaching important places. Many people who use wheelchairs are not comfortable driving because they are not designed so that the wheelchair-bound can be easily seated and drive them. 
They need to make certain seat arrangements to drive more safely and comfortably. In this article, you will explore in-depth all these changes. So stay tuned into reading this article.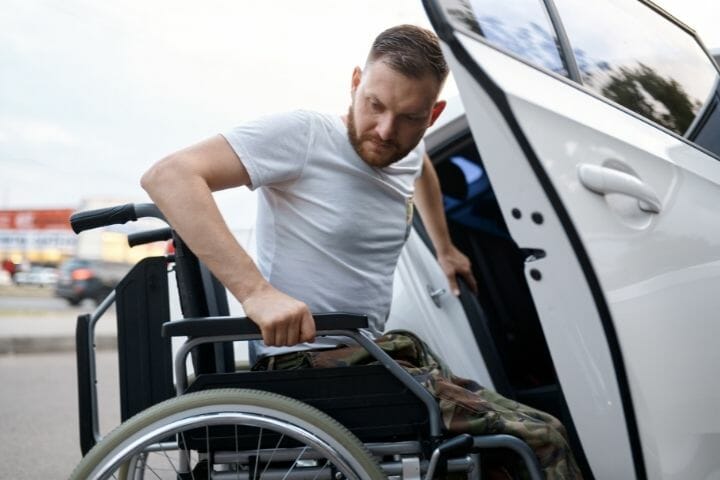 9 Ways To Make Your Car Wheelchair Accessible
Purchase a wheelchair hoist:
With the help of a wheelchair hoist, you can make your car wheelchair accessible. It works by security and safely lifting the scooter or wheelchair into the car's boot. You don't need to put much effort if the wheelchair hoist is fitted correctly.
There are three types of wheelchair hoists: 
Four-way hoists: which move both sides as well as up and down
Two-way hoist. In the two-way hoist, the wheelchair only moves upward and downward. 
Six-way hoist: Can move both sides to one side, up and down. It can swivel up to 90 degrees. 
You can add a retractable ramp:
You can include a rear access ramp. It is a popular option and easily accessible for everybody. The retractable ramp is either electric or manually powered. It is placed on the ground, and it is an easy way for the wheelchair to get into the vehicle boot.
If you have a congested vehicle or your space is restricted, then you can use an exterior carrier as it is an excellent alternative to carry your scooter or wheelchair on the back of your car. 
Make a different seat arrangement:
An easy way of making your wheelchair more accessible is to make a different sitting arrangement that is suitable and comfortable. A Carony system is an excellent way to transform your wheelchair into a car seat.
The seat slides onto the rails of the system directly onto the wheelchair and vice-versa. There is no requirement of transferring or lifting the person at all.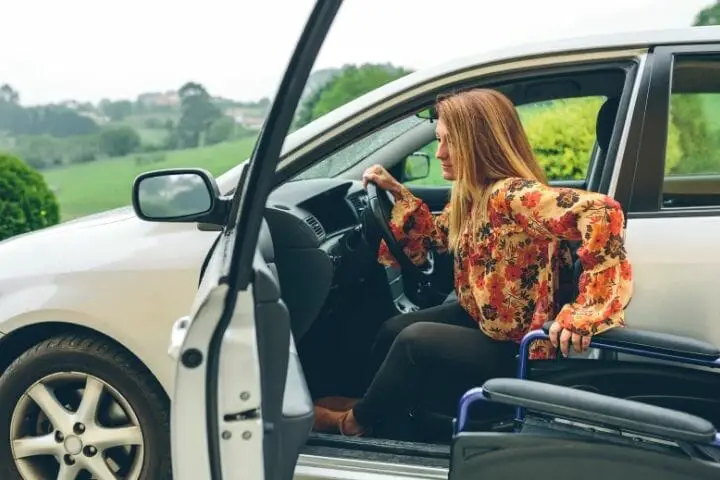 Turnout seats are another good arrangement for shifting the person from the wheelchair to the car seat. With the help of a turnout seat, the wheelchair user can easily exit and enter the car.
The turnout seat swivels from the car seat outside the door so that the user can be easily transferred to the wheelchair. The turnout seat can turn to extend, rotate, lower down as per the needs of the wheelchair user. It is suitable for cars of all sizes. 
Seat belts and Docking: 
An alternative to swivel chairs is docking points and straps. Custom seat belts are also essential. These belts can be installed to secure and safeguard the wheelchair. 
Hand controls: 
Customized hand-operated controls can replace foot-operated controls to suit the comfort and controls of the person who is driving—restoring the handle for braking acts as an alternative in helping to perform significant driving functions. 
For example, Push and pull controls are good if you can't use foot pedals due to disability while driving. Push and pull controls are used as a replacement. It easily fits in all the vehicles and works using a lever mechanism joined to the steering wheel.
Pulling the lever acts as an acceleration pedal, and you simply need to push the lever away from you to brake.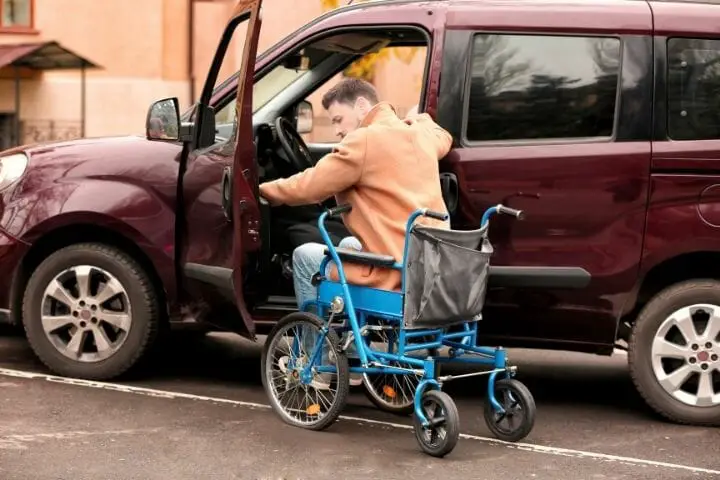 Swivel chairs: 
Standard car seats are stationary. As they are limited in movement, they can be replaced by adjustable swivel seats. These seats allow easy transitions to access the car seat from the wheelchair. It is essential to sit on the seat designed for the car for the safety and comfort of the person. 
Steering wheel attachments: 
You can modify the car steering wheel with multiple accessories like Honking, blinkers, modified turning, and other operation works to control it through easy-to-use devices and buttons. 
Alternative pedals: 
If you cannot carry out the foot operations at the normal length of the leg, then the standard vehicle pedals can be moved, extended, and can be used for different feet and positions of the legs. 
Making small changes in your vehicle to increase accessibility doesn't need to be complicated. These accessibility features provide independence to those who have struggled with mobility and improve the quality of day-to-day life and comfort of wheelchair users.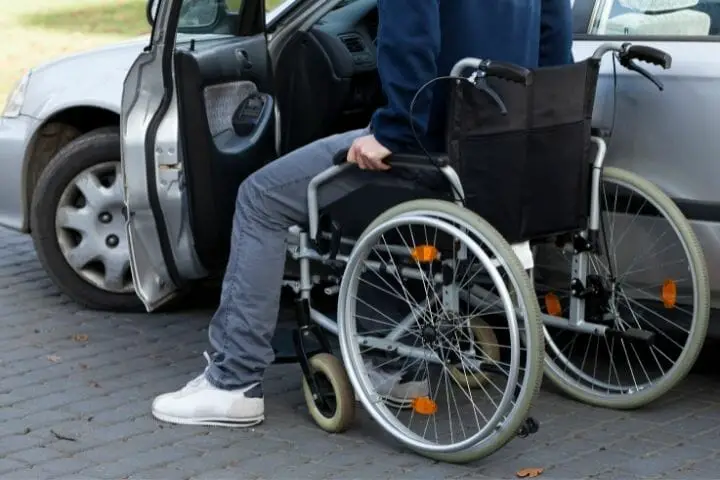 Understand Driving With Disability
Try to understand that there are specific requirements and laws for driving with a disability. Understanding all of these things is essential. To understand in and out of driving with a disability, you can go through the following points.
Enroll in a driving school and see what modifications you need to make in your vehicle: 
When you are driving with disabilities, you need to understand and ensure which facet of your disability you require help with. You will find this by being part of a driving school near you. 
Before getting the license in any state, you need to pass a written examination. After that, you need to complete the driving hours to qualify for this test. 
Before the examination, the department of motor vehicles will make sure that they serve your disability needs. This means that they can provide a car with a lower floor and ramps. If you regularly use a wheelchair, they will provide you with a vehicle with such a type of adaptation.
Try to get driving lessons to get used to using the equipment: 
To boost your chances of qualifying for the exam, you need to spare some time to drive with the converted vehicle. In the urban environment, the driving schools are accustomed to driving with such modifications. 
Once you understand the exact way of driving the car with all the modifications, you can pass the exam with the help of several practice sessions. It is often required to practice at least twice with the vehicle before going for the exam.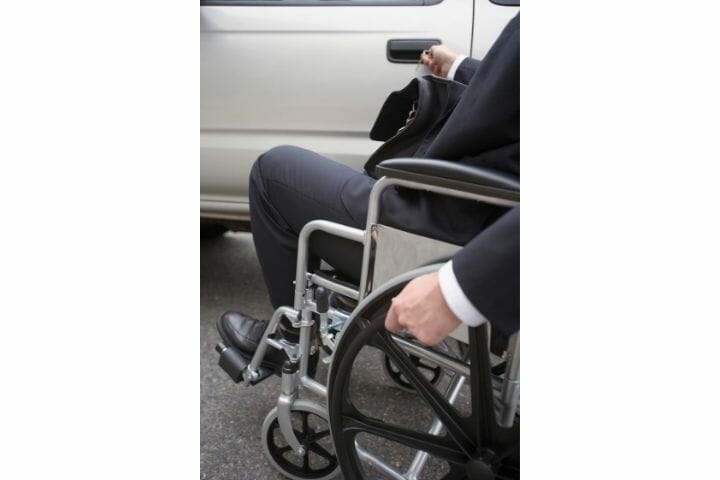 Pass the exam: 
Once you have practiced driving a vehicle with all the modifications, it becomes easy to adapt it. Pass the exam by being calm.
What is the cost of making a car wheelchair accessible? 
The cost varies if you add different modifications like side entry and rear entry conversion. The changes for the modifications are known to be more labor-intensive. 
It can cost you around $10,000 to $30,000 depending upon the individual changes and the type of technology you want. You can customize your vehicle as per your requirements and comfort.
You might like to read: How to Choose a Wheelchair for the Elderly
Guidelines to modify your vehicle wheelchair accessible: 
Understand what modifications are essential: 
There are some essential modifications that you need to make your vehicle fully wheelchair-equipped. Some of the main modifications that you need to make are adjusting the seat belts, adding the driving hand controls in your car to easily access wheel brakes and gears, transferring seat lifts, and lifting and lowering the wheel. 
You can even add side entry or rear entry in your vehicle. You can also make some smaller cost-efficient modifications. 
The vehicle should pass all the prerequisites before you modify it:
Not every vehicle can be transformed into a wheelchair-accessible car. You need to do some research to ensure that your vehicle can be adapted to such changes. 
You need to ensure that it consists of a power seat, power steering, and an automatic transmission. The manufacturers do not accept older vehicles for the conversion. You can use new cars to make some modifications as per your requirement.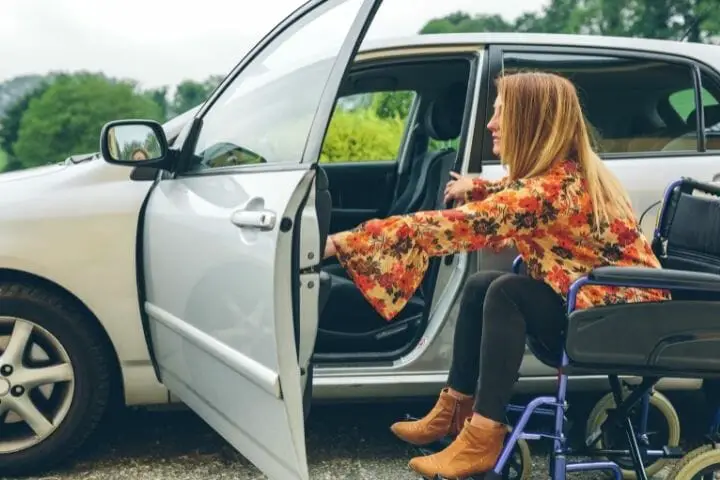 Wrap up
People who are bound and use a wheelchair regularly are not comfortable driving the vehicle without making essential changes. They can add a retractable ramp, wheelchair hoist, swivel chairs, and make specific steering wheel attachments. 
In this article, we have detailed all the modifications for better wheelchair accessibility in the vehicle. We hope this article will be useful for those who are struggling to gain back mobility after being restricted to using a wheelchair due to injury, accident, or disease.
If you liked the ideas presented here, please make sure that you share the article with those who are in need of it through your social media accounts and other groups. We would love to hear your comments and suggestions as well, so please leave us a word in the comment box and we will get back to you quickly.