Running is the perfect form of exercise to keep fit at any age. However, before you begin running, you need to know how to buy the best running shoes. Let's help you understand the basics of buying a good running shoe.
In addition to 26 bones, ligaments, tendons, and muscles in the foot, we lose water in cells and tissues as we age, making the foot more rigid and less mobile. As we age, our muscles weaken, and as a consequence, our arches flatten down, causing us to have flat feet.
A more flat-footed posture is also caused by typical ailments in the elderly such as the Achilles tendon shortening. Arthritis-induced joint stiffness thins the cartilage between the bones, causing inflammation and discomfort.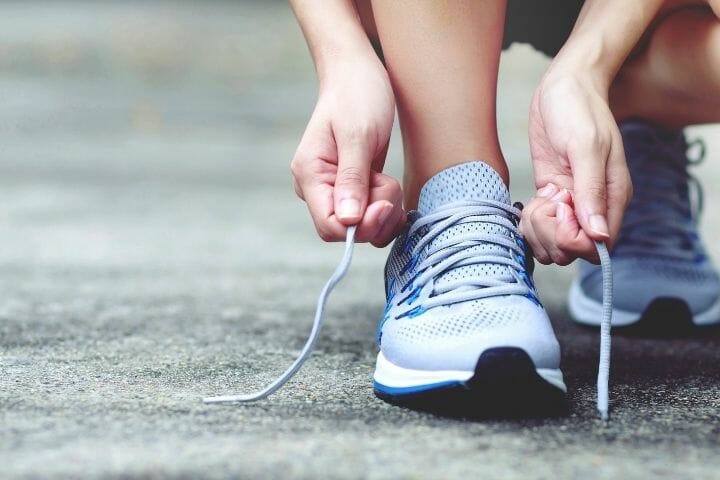 High-quality running shoes reduce strain on our lower spine, knees, calves, ankles, and feet since they are designed and constructed with lighter materials, deliver shock absorption and heel-to-toe support, and provide excellent cushioning and responsiveness. 
We've put up this guide to aid you in selecting the best running shoes for your requirements.
You might like to read: How to Choose Shoes for the Elderly?
Are There Any Running Shoes Made Particularly For The Elderly?
No, that's the quick and straightforward answer. There isn't a running shoe design section for the elderly among the large shoe brands. And it's not necessary either! The selection for a running shoe is the same whether you're in your 20s or you're an older person.
However, older runners need to pay more attention to their footwear than young runners.  To avoid running-related ailments, you can't ease off when you're well into your sixth or fifth decade of life. 
Since it doesn't impact them, young runners tend to overlook the importance of selecting the proper footwear or changing worn-out footwear. Although it becomes even more important as you get older,
If you're looking for a pair of running shoes for an older person, keep the following considerations in mind. These are good to have, but they are not necessary. Ultimately, it is down to the individual's running style and stride length.
Moderate Cushioning 
It is common for elderly individuals to get a set of super-cushioned shoes. It is usually believed that super-cushioned shoes assist you to absorb shock impact, which otherwise might flow into your knees and joints. Such a hypothesis seems to be intuitively true. However, it falls short on a few issues.
Running shoes featuring thick and soft cushioning often have the following two characteristics:
A tall stack height (the gap between the floor of your feet and the ground).
Soft shoe insoles
When you wear these shoes, you can feel the sponginess. Compared to other kinds of shoes, these two qualities make running shoes comparatively unstable. An elderly runner's body will have to continuously mold itself to remain steady, which is not ideal for an elder runner.
Aside from that, these shoes tend to be bulkier. Max-cushioning shoes are better suited for advanced runners who want to finish a full marathon or for persons who must stand and walk for an extended period owing to the nature of their jobs.   If you prefer casual treadmill/road jogging, you'll require running shoes with modest cushioning.
Durable Outsole With Good Traction
You should be searching for a long-lasting outsole with adequate tread. Elderly runners have less stamina and power in their legs than they were young. Even if we don't want to believe it, we can still feel it in our legs.
Stability on the road, or even on the trail, is made possible by a good outsole. Test the shoes with some jumps or a short run. You wouldn't want it to get slippery once you've struck the road or are jogging on a smooth surface.
Toe Box with Plenty of Room
A broad and lengthy toe box in your running shoe is particularly important if you have problems with your metatarsal bone (the forefoot bone), prevalent among older runners.
You may check the fit of your toe box by doing the following:
Move your heel toward the rear of the shoe.
At the top of the shoes, press your thumb down. 
With no obstruction, your thumb ought to be able to reach the bottom.
Change the size of your shoes if your toes are getting in the way.
Additional Tips
Know What You're Paying For
Running shoes with a lofty price tag are typically more technologically advanced and comfortable; however, that doesn't imply you have to spend a lot of money on them to enjoy a run. Furthermore, buying a low-cost pair might indicate that the shoes weren't made for running and won't stand up to the stresses that running exerts on them.
A good pair of running shoes often fall between $100 and $250. Running shoes that are well-suited to the demands of the majority of runners may be found for between $110 and $150.
Avoid buying fashionable shoes
Shoe purchases should not be made only based on color, style, or lightness. Shoe companies employ these qualities to sway customers into buying on the spur of the moment, without thinking about whether or not the shoe is a good fit for them.
Because of this, you are better off spending your money on a plain-looking, well-fitting shoe rather than on a stylish, eye-catching shoe that aches your feet after only a few weeks of use.
Top 3 Running Shoes
#1. Brooks Adrenaline GTS20 
The Brooks Adrenaline GTS 20 is constructed of blown rubber, a kind of air-injected rubber mixed during the manufacturing process.  The conventional rubber (carbon fiber) used in most running shoes is heavier and less flexible than blown rubber.
This shoe's midsole is the main attraction. If you suffer from overpronation, this shoe is for you! People who require a support system may rely on Adrenaline GTS 20's GuideRails functionality. 
In the event of extreme movement, it holds your foot in place. To improve their striking and toe-off patterns,  Individuals with overpronation and even moderate runners with bad stride cycles should use this functionality.
Additional stability is provided by the DNA loft foam positioned in the heel part of the shoe. It maintains your heel in place so that your foot doesn't slide around while you're moving around a lot. Moderate cushioning lends itself well to overpronators because of its midsole's design.
Pros:
Toe box with plenty of space
The midsole is of superior quality
Design that is contemporary in appearance
The shoe upper is firm yet flexible.
Cons:
For some runners, the heel area is too narrow.
#2. Nike Air Zoom Pegasus 36 
The rubber parts are divided with grooves in the Nike 'crash rail' pattern. Carbon rubber is used to make the outsole of this shoe. Mobility and traction are provided by a bouncy midsole working in tandem with this feature. Many running surfaces are well-suited to the rubber outsole's traction abilities. Many seasoned runners have lauded the outsole of this shoe.
The Zoom Air cushioning unit runs the length of the midsole like it did in the previous Pegasus 35. The EVA foam is mounted below the Zoom Air unit to increase its responsiveness and bounce.
Because of this, the shoe's midsole is sturdier than some other running shoes on the market. However, a sturdier midsole doesn't always mean a lack of comfort. An EVA foam midsole and detachable blown rubber insole provide enough cushioning for everyday training and long-distance races.
Engineered mesh covers the upper portion of the shoes. The shoe upper is made of elastic textile material, which enables the shoe to conform to the contour of your foot in the event of inflation while bending. To keep your foot cool, breathing holes were included in the design. A strip of luminous material is sewn on the rear of the shoes, making them more visible at night.
Pros:
Midsole with excellent responsiveness
A long-lasting outsole
The design of the lacing mechanism and heel collar is excellent. 
Cons:
Some individuals find that the shoe is too thin.
#3. Brooks Glycerin 18
The outsole of Brooks' shoe is made up of distinct rubber compounds for the heel and forefoot. The heel area of the shoe is made of HPR Plus rubber, which provides you with a better grip while landing.
The forefoot component of the shoe is made of blown rubber, which provides you with responsiveness as you toe off. When transitioning from heel to toe, this shoe has a flex groove structure invented by Brooks, which permits the shoe to curve naturally.
A long-lasting foam called DNA LOFT, used in the same way as in the previous edition is used for the cushioning system. Even though it had a deep layer of cushioning, many runners were astonished to find light in weight. During the toe-off phase, several purchasers voiced their gratitude for the responsiveness of the product.
A flexible double-jacquard mesh is used to keep your feet cool throughout the day. A plush internal lining is utilized to enhance the already soft mesh fabric's comfort for your feet. Multiple online buying sites have received numerous excellent reviews on the shoe's upper.
Pros:
Upper of the shoe that is comfortable
Exceptional traction on the outsole
The midsole is responsive and well padded.
Cons:
Some folks aren't fond of the color of it.
Wrap Up
If you don't have the correct knowledge or at least some indication of what you should be searching for, it might be tough to choose the appropriate shoe from among the numerous prominent shoe companies.
We hope this little guide has given you all the information you need to get up on your feet and start running at any age!
Please let us know if there's anything you think we've missed or if you have any suggestions for how we can improve this guide. Please share it with others and mention us on your social networking sites if you appreciate the information.