What's better than a healthy snack made well? Here are some options for a healthy snack to prepare for kids and seniors. 
Dealing with kids and seniors is among the most demanding challenges for caregivers. Kids and seniors are alike in many behavioral aspects such as stubbornness, unhealthy eating habits, and so on. Caregivers can guide and support seniors and children with healthy eating habits that will prove beneficial over time.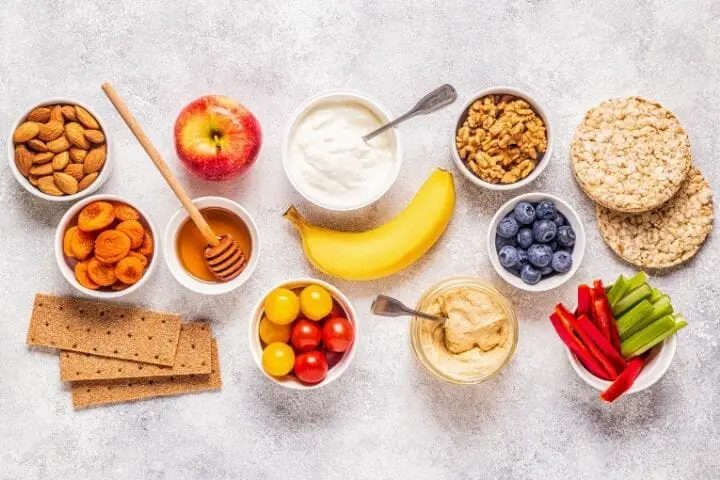 Many Americans struggle with maintaining a healthy eating lifestyle. Due to this, the prevalence of obesity is very high. 42.4% of Americans were obese in 2018. This article will help you as a caregiver prepare some healthy snacks for kids and seniors to enjoy their meals. 
Why Healthy Meals Are Important For Seniors
If you are a caregiver looking after a senior or some kids, then you are constantly going to face the issue of trying to feed the person you are caregiving for. While you are looking after the person, then eating a well-balanced diet is essential that will allow you to keep going and maintain your energy level throughout. 
You may be tempted to go for fast food items due to the shortage of time. Fast food items will not provide you with the nutrients and vitamins needed to have a healthy lifestyle. 
Many seniors require the help of a caregiver to prepare their meals for a variety of reasons that could include lack of physical strength, lack of interest in cooking, or the changing physical conditions of the body. Many seniors may experience a change of taste buds as they grow old, due to which they can have some drastic changes in their eating habits. 
In some situations, older citizens might also not be able to taste the food they are eating because of their medications as a side effect. 
Healthy Meal Ideas For Seniors And Kids
Some of the healthy meal ideas are given below. These meals are easy to prepare and nutritious, so you will not have to spend a lot of time cooking them. 
Hand pies that include chicken and vegetables
These hand pies are a combination of veggies and chicken pieces. These hand pies are a tasty combination of whole grains and other healthy ingredients. 
One of the significant advantages of this recipe is that it is simple to prepare, and you can freeze it for later use. You can learn to cook this recipe here.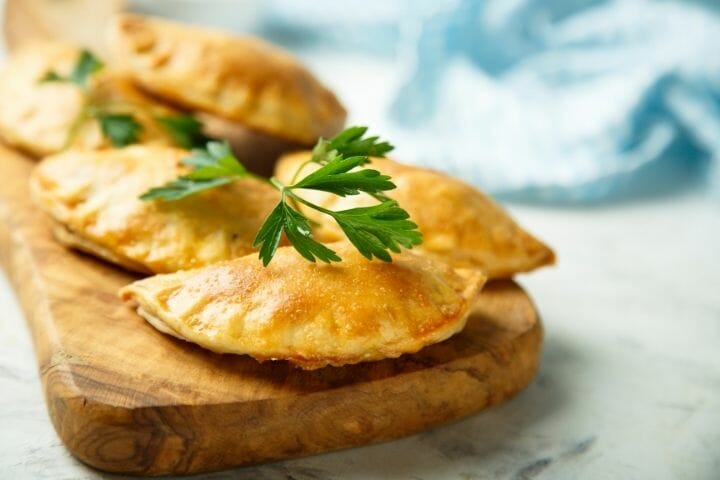 Baked French toast with apple cinnamon
This dish or recipe is suitable as a meal for any time. You can have this for breakfast, lunch, or even dinner. Once you have prepared this meal, you can also freeze this for up to 2 months. 
This apple cinnamon French toast has plenty of healthy ingredients such as organic eggs, flaxseeds, apples, pumpkin, and almond milk. 
These ingredients contribute to making this dish with high soluble fiber and protein. This dish will help seniors and kids to meet their daily protein and nutrient quota. Learn to cook this simple apple cinnamon toast here.
Banana smoothie with spices
This smoothie is an ideal breakfast drink that tastes great if made correctly. The main reason kids and seniors should consume this smoothie is that it is very beneficial for their gut. Both children and older adults have a weakened stomach compared to an adult person. 
This smoothie also includes kefir. Kefir is a type of milk that is fermented, it is very similar to thin yogurt, and it is made from unique kefir beans. Kefir is a substance known for its health benefits especially being gentle on the gut. 
This banana smoothie also has added spices that are high in vitamin B12. Vitamin B12 helps the body make and prepare red blood cells and maintain the proper functioning of the nerve cells. Improving cognition and generating cell growth are also among the essential functions of this vitamin. You can learn to make the best smoothies here.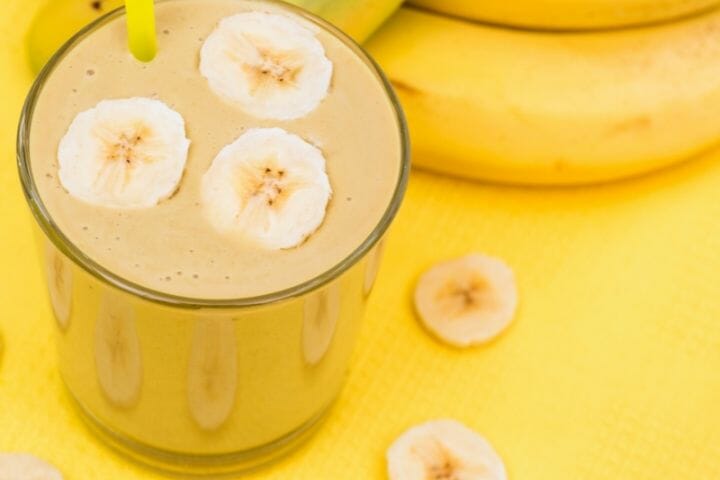 Oatmeal that has pumpkin in it
Pumpkin oatmeal is a healthy meal that you can consume on cool winter mornings. Enjoying a warm bowl of pumpkin oatmeal in the morning will keep you energized throughout the day. As a caregiver, you will not have to spend extra time preparing this dish as you need milk, some fresh or canned pumpkin, and oats. 
Pumpkin oatmeal is very rich in vitamin A, and vitamin C. Vitamin A is also commonly known as retinol. Vitamin A also helps our body prepare its natural defense system against any illnesses or infections. 
By the year 2050, the number of visually impaired or blind people in America is expected to double. Lack of Vitamin A from people's diet has a significant role to play in this. Seniors that suffer from weak eyesight should also increase their consumption of Vitamin A. 
You can learn how to make pumpkin oatmeal here.
Carrot ginger juice
Carrot ginger juice is an immunity booster drink. Carrot is rich in Vitamin A and very tasty in juice form. Adding some ginger to carrot juice will enhance the health benefits of this drink massively. 
Kids and seniors are vulnerable to diseases and infections as they have a poor immune system. Consuming this drink regularly will strengthen your immune system. Caregivers must remember that the best way to make this immunity booster drink is to drink it fresh. A recipe for the best carrot ginger is here.
Carrot-Beet Apple Juice
People probably won't feel that beet-carrot-squeezed apple juice is tasty. However, after tasting this juice, they will understand and appreciate its taste. This juice blend is staggeringly sweet and rich in nutrients and vitamins. 
It also offers a variety of medical advantages for seniors specifically. Beets are especially great for the wellbeing of the cerebrum, while carrots support visual perception and clarity as it is filled with loads of vitamin A. Learn how to make this here.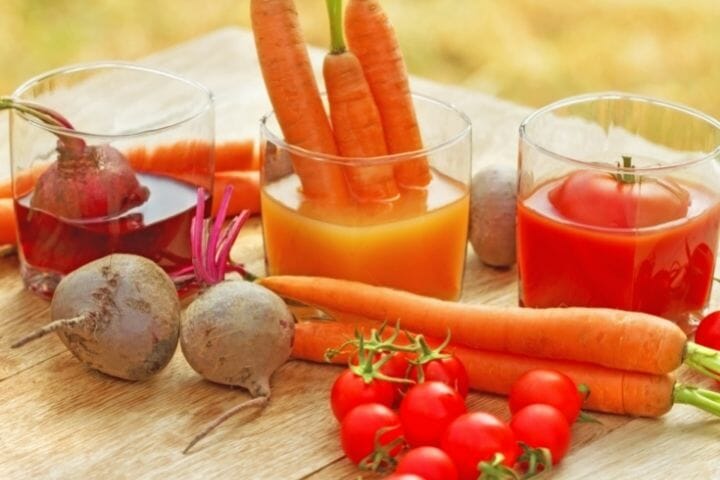 Dark chocolate protein smoothie with dates
This recipe or dish is among the more calorie-high and tasty breakfast options on this list. As a caregiver, you can treat your patients with this dish once or twice a week. 
This smoothie is popular among the kids as most of the kids are fond of chocolate and seniors who have a sweet tooth and appreciate chocolate. 
Some people might think that this drink is unhealthy, but that is not the case. This drink is entirely healthy and indeed filled with nutrients. 
Dark chocolate is rich in iron and magnesium. If you further add healthy food items such as nuts, nut milk, bananas, kale, dates, raisins, etc. Then the nutrient value of the protein smoothie will improve further. 
Magnesium is an essential nutrient for seniors and kids as it helps the blood sugar into the muscles. Older adults that suffer from chronic diseases require magnesium to fight off the onset of fatigue and exertion. 
High blood pressure is a common chronic disease in seniors, as about 58% of the seniors above 65 suffer from it. Learn how to make this recipe here
Fruit Salad
Fruit salads are among the easiest recipes to make, yet they are also among the healthiest recipes for any individual. One of the best things about fruit salads is to customize your salad according to your taste preferences. 
For instance, if you are fond of strawberries over apples, you can include as many strawberries in your salad as you want. There is no fixed recipe for a fruit salad, so you don't have to restrict yourself to a specific theme. 
Some fruit salad recipes have higher vitamin C composition, whereas some recipes are high in vitamin A. As a caregiver, you can examine the nutrient requirements of your patient then plan the diet according to that. 
Green or vegetable juice
Juices are the safest and the most beneficial options as a caregiver. You can hardly go wrong with green juices for your patients, plus they are also highly rich in nutrients. 
Vegetable juices are an effective method for having commonly overlooked vegetables such as broccoli, kale, cucumber, and celery. You can learn a great vegetable juice recipe here.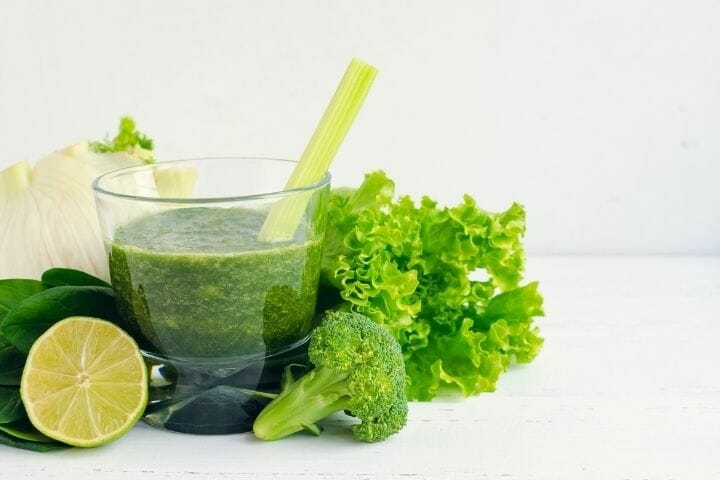 Creamy vegetable soup
This vegetable soup is not difficult to make and is very solid in nutrients. These recipes are made entirely with milk instead of cream, despite what the recipe's name suggests. 
This recipe is a better option in contrast to standard vegetable soup. 
The goodness of vegetables alongside milk guarantees that you'll get an additional dose of vitamin B12 while also getting other different nutrients. 
Cauliflower bean dip with added lemon
If you are searching for an energizing new lunch recipe, this is ideal. The cauliflower is high in vitamin C, so this dish gives additional support to your immune system. 
This recipe also has different blends of Mediterranean flavors. If you are a fan of aggressive flavors, you might not be a big fan of this dish as it has subtle flavors and spices. You can check out the recipe for making this dish here. 
Spinach and mushroom omelet
For seniors who want to have a healthy lunch, a veggie-stacked omelet is an ideal meal for them. This spinach and mushroom omelet is soft and light. This makes it suitable for the weakened guts of the kids and seniors. 
Eating eggs daily is an excellent method for getting some extra vitaminB12 into your daily eating routine. You'll likely get other nutrients such as vitamin A and vitamin B6 alongside potassium and magnesium if you also add veggies to this omelet.
Mashed potato cakes
Potatoes for lunch are ideal as they are rich in carbohydrates, plus they will also make you feel full and content. As the day progresses, you will not feel very hungry after consuming potatoes. 
Also, these mashed potato cakes are delicious to eat and easy to cook. They have a high range of flavors, including cheddar cheese and other additional flavors. You can learn how to make them here.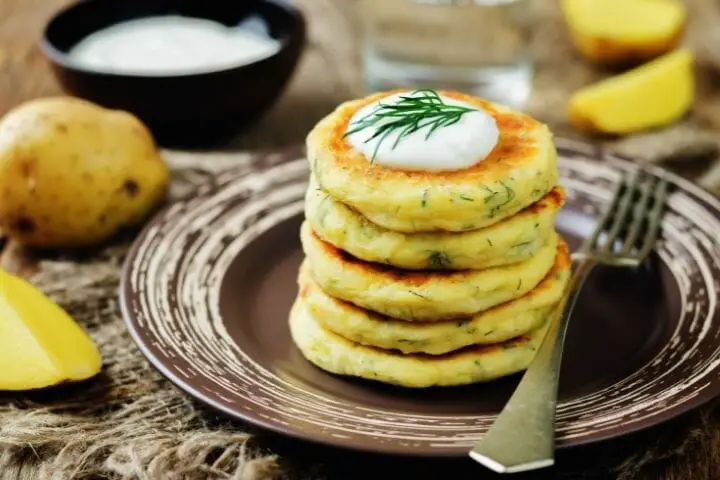 Tomato soup
Tomatoes have plenty of supplements, especially vitamin C. This recipe is simple to make. All you need to make this soup is some tomatoes. You can make this soup early in the day and then store it for later consumption as tomato soup does not go stale for a long time. 
Eating tomato soup with some toasted whole wheat bread will be pleasing to your taste buds. You won't require any help from others to prepare this meal recipe. Tomato soup is a phenomenal dinner choice for seniors who need a simple yet nutritious lunch feast that can be made on a budget.
Garlic pasta
For seniors, this is a brilliant meal, especially for dinner time. Pasta is a food that is great for seniors with biting issues. Senior citizens with no teeth or biting issues can easily swallow pasta without any problems. 
Eating whole-grain pasta gives extra medical advantages as it contains more nutrients and minerals than regular pasta. Garlic is a fantastic food item for improving your digestion and immunity. 
If you are a non-vegetarian, you can also consider adding chicken stock to your pasta. Adding chicken will add some additional vitamin B12 to your eating diet. You can learn to cook garlic pasta from here.
Quinoa salad
This is a light Mediterranean serving full of mixed greens that include a range of great flavors across the whole dish. It is also simple to make a lunchtime dish. 
The quinoa in this dish is full of nutrients, and the flavors on top of this offer extra taste and medical benefits. Tomatoes and mozzarella cheese to garnish the dish will give it a pleasing touch. The link for preparing fresh quinoa salad is here.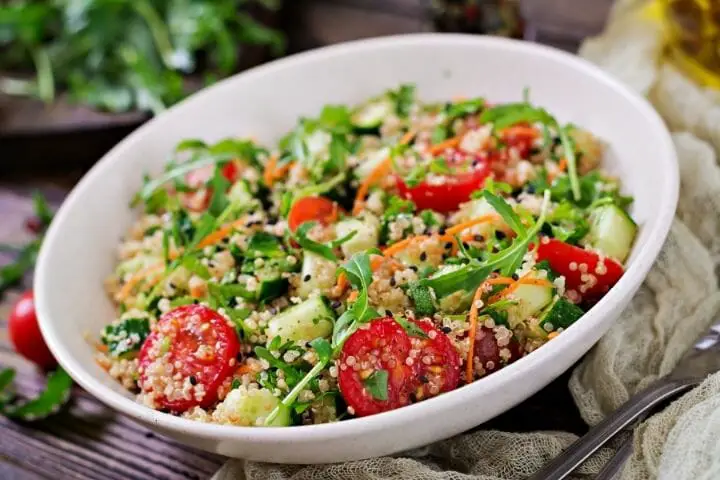 Wrap Up
Seniors who eat nutritious meals consistently are bound to be healthier than individuals who don't. However, giving nutritious meals to older patients is difficult for a variety of reasons. As a caregiver, your patients will profit from you taking this extra time to prepare special meals.
This article is a guide for caregivers on some tasty and healthy snacks that you, as a caregiver, can give to kids and seniors so that they can meet their daily nutritional requirements. 
If you loved the recipes and ideas shared here, do write to us and give us your thumbs up in the comments section and on social media. Please share your own recipes as well, so that others can benefit from them.