Do you have problems sleeping because of Fibromyalgia? Since there isn't a real cure for this painful disorder, those that suffer from it must find other remedies to help alleviate the pain.
One of the most popular remedies that help to ease the impact of this painful disease is finding a good mattress that will let you get a restful night's sleep.
Here are a few tips on what to look for in the best mattress for Fibromyalgia and a few reviews to help you start shopping.
Causing incredible pain throughout your body, Fibromyalgia is an autoimmune chronic disorder that causes you to have symptoms that include decreased energy and severe fatigue.
It is common to also suffer from insomnia and wake up frequently throughout the night so that you constantly feel tired.
People that suffer from Fibromyalgia also complain of horrible stiffness when they wake up since they tend to sleep in a certain position for too long as well as a constant cycle of sleep problems and pain.
Stomaching Sleep Issues
Poor sleep is a common complaint among those suffering from Fibromyalgia. Also called insomnia, this type of sleep includes not feeling restored or refreshed in the morning along with the inability to fall or stay asleep.
Those suffering from Fibromyalgia wake up frequently throughout the night, have lighters stages of sleep, and have shown less deep sleep.
There are other issues that are associated with Fibromyalgia that include restless leg syndrome which up to 50% of Fibromyalgia patients report.
According to WebMD, restless leg syndrome has a much higher occurrence, up to 33%, in those that are suffering from Fibromyalgia.
This condition consists of a constant urge to move your legs when you are in bed that can be very aggravating and keeps you up all night since you can't find a comfortable position for your legs.
Sleep apnea is another condition that Fibromyalgia patients report in 32% of women and 61% of men.
While you sleep, your breathing is interrupted and those that do not get their sleep apnea treated can actually stop breathing while they sleep.
Fibro Fog
Many people with Fibromyalgia complain of "fibro fog†which is pain and fatigue that leads to cognitive impairments.
When you suffer from fibro fog, you have a hard time focusing and remembering details, plus it can be hard to solve problems and complete complex mental tasks.
You can even have a hard time thinking clearly and holding a conversation due to a lack of focus and having a hard time with mental processing or expressing yourself.
When you live with fibro fog, you can become very frustrated when you are constantly losing things or having a hard time remembering details.
In many cases, people have had to change jobs to live with the condition and, according to the National Fibromyalgia and Chronic Pain Association, fibro fog can be devastating to a patient's ability to function on a daily basis.
You can learn to live with fibro fog by working on relieving the fatigue and underlying pain that contributes to these side effects as well as learning tricks like taking notes during conversations and having witnesses attend important discussions like doctor's appointments.
Believe It Or Not, Your Mattress Can Help
Instead of trying expensive treatments or medication, a new mattress might be the solution to your sleep issues.
Your mattress can actually help ease your pain if you make sure to do your research and find the right one that will help your condition.
According to Dr. David Warwick, there are several guidelines that can help Fibromyalgia sufferers can use that are nondrug-related that including getting a new mattress.
Dealing with Pressure Points
Those that suffer from Fibromyalgia often have really painful pressure points which often makes it hard to get a good night's sleep and feel refreshed when you get up in the morning.
If you sleep on a memory foam mattress, you will get additional support and a mattress that will contour to your body that relieves pressure points instead of irritating them.
According to Health.com, there are 18 pressure points used to diagnose the disease, and understanding where they are can help you better relieve your pain.
Softness & Support
Your mattress also needs to offer your body support otherwise it will provide you more pain than you already feel.
If you have Fibromyalgia, an innerspring mattress can be a bad idea as you need a mattress that will cradle your body in the correct way so you don't feel every lump in your bed causing you more pain.
You also want a soft bed, but not something that is too soft. It needs to be supportive and comfortable so you are supporting your aching joints instead of twisting them.
Also, make sure you don't have something too hard which will just cause you more pain.
Too Hot To Handle
According to EverydayHealth.com, there are several odd signs of Fibromyalgia including night sweats which causes you to sleep hot.
Finding a cooling mattress can be vital to a good night's sleep, so look for a mattress that allows air to easily flow in and out so your body heat doesn't build up and rise up to your body.
You get the most breathability from an innerspring mattress followed by latex, gel, and memory foam.
Pain in the Back
If back pain is your main complaint, you should look for a mattress with the following features:
A medium firmness that will help with spinal alignment
A mattress topper for those that don't want to buy a new mattress will help to soften up a bed that is too hard
Memory foam can be great in helping to prevent and soothe back pain
Hips and Shoulders Too
If your main complaint is your shoulders and hips, look at memory foam mattresses.
This type of mattress can give you a good mix of support and comfort to help relieve pressure points.
If you are a side sleeper, your shoulders and hips can put a lot of pressure on your bed.
You want to make sure to look for a softer mattress that relieves pressure as well as conforms to your body while keeping your spine aligned.
How Your Mattress Can Help You Sleep
Snoring the Night Away
Sleep apnea commonly causes snoring which happens when your airway is blocked causing you to stop breathing and repeatedly restarting your breathing while you sleep.
Sleep apnea signs include loud snoring and being very tired after you have slept all night.
Other effects of this disorder include an irregular heartbeat and arrhythmia. According to Dr. Rosenfeld, sleep apnea is one of the most serious side effects of Fibromyalgia.
Exhausted of Fatigue?
The biggest problem with Fibromyalgia is daily fatigue so obviously getting a good night's sleep can be a big improvement in your quality of life.
Having the right mattress can make a huge difference if you are suffering from Fibromyalgia in getting a night of proper sleep.
Pain, Pain, Go Away
When you have consistent pain, it can be hard to fall asleep or cause restless leg syndrome.
You can have a more productive day that can begin with a good night's sleep which you can only get with pain relief.
Getting a good night's sleep helps to repair tissues that are damaged and allows your body to get some relief from pain.
The Cycle of Anxiety
Constant anxiety is another cycle that Fibromyalgia causes where can't sleep and function normally. When you can sleep well, you can repair not only your body but also your mind.
Having a good mattress will help Fibromyalgia suffers reduce their anxiety in being able to fall asleep and stay asleep which can reduce your anxiety while you are awake.
Mattress Types That Are Good For Fibromyalgia
When it comes to buying a mattress, you have a lot of choices. If you are suffering from a chronic disease like Fibromyalgia, the field of available mattresses narrows but it becomes even more important to make sure you have found the right mattress to alleviate your pain.
Some mattresses can give you different benefits than others, so you really need to focus on the right one that will give you relief from your pain and avoid the ones that will cause you more pain.
Innerspring
The most popular choice of mattress is the innerspring mattress as they tend to be the most breathable.
If you have Fibromyalgia, you will more than likely experience night sweats and hot flashes making sleeping uncomfortable.
There is a lot of empty space inside an innerspring mattress allowing it to have more airflow.
This is a good mattress for those experiencing night sweats, plus they give you great edge support and are easy to move.
However, cheaper innerspring mattresses aren't as durable as other types, can become lumpy over time, and some of them can be pretty bouncy which isn't going to help you if you have a lot of pain.
Natural Fiber
For those suffering from allergies as well as Fibromyalgia, you may want to check out a mattress that doesn't have all those chemicals that will aggravate your sleeping habits.
Many mattresses contain chemicals that will aggravate your allergies, but natural fiber mattresses are constructed using few chemicals and have a good level of durability.
Memory Foam
Becoming more popular over the last few decades, memory foam is a material that will completely contour to your body giving you optimal support while reducing pressure points and alleviating pain.
It can also encourage correct spinal alignment while preventing pain and reducing allergens and dust mites. It also has low-motion transfer and will fit adjustable beds.
Latex
The most durable mattress is a latex mattress that is made of 100% latex. Offering great support, latex mattresses are often antimicrobial and hypoallergenic.
Since they use natural materials, they tend to be a little more expensive, so you may want to check out the hybrid mattresses made of latex and either polyfoam or innerspring to save some money.
How to Sleep with Fibromyalgia
Fetal Position
One of the best ways to relieve pressure if you have Fibromyalgia is to sleep on your side.
This is the best way to reduce pain while you are sleeping, and it is often suggested to sleep in the fetal position which will lessen pain in your lower back, back of your knees, chest, and shoulders.
By bringing your chest up to your knees, you also help to rehydrate and open discs in your back to lessen lower back pain.
On Your Back
If you like to sleep on your back, you can also relieve pain as long as you put a pillow under your knees to raise them up.
This cushions those tender spots and pressure on your back that can cause pain.
When you raise your knees, it takes off any bodyweight on your pelvis and raises your torso height to alleviate strain on your lower back.
Make sure to use a flat pillow when lying on your back to relieve pain in your neck, upper back, and shoulders.
Stomach Sleeping
Stomach sleepers tend to have pain in their neck, those suffering from Fibromyalgia can find relief if they use their pillow under their stomach instead of their head.
This helps to stop your back from bending the wrong way and alleviates pain and pressure.
Best Mattress for Fibromyalgia Reviews
Zinus Memory Foam 12 Inch Green Tea Mattress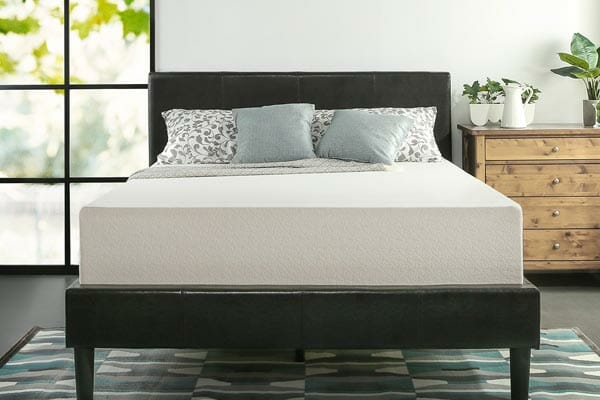 Zinus Memory Foam 12 Inch Green Tea Mattress – Check the price on Amazon.
The Green Tea Memory Foam bed will conform to your body for amazing comfort and support that is the pressure-relieving giving you a great night's sleep.
Within 72 hours, you can expect your Zinus Memory Foam mattress will fully expand and allow any potential odors to go away.
This is a CertiPur – US Certified foam mattress for its performance, content, and durability.
Within the mattress, you will find two inches of comfort foam, three inches of memory foam, 3 1/2 inches of airflow high-density base support foam, and 3 ½ inches of airflow high-density foam.
Zinus also infuses the memory form with a trustworthy and safe anti-oxidant with natural green tea extract to provide product freshness.
The mattress will be compressed efficiently by Zinus's patented technology before being rolled and shipped to your door.
Pros:
Easy to set up
Does not come with a strong odor
Looks great after about 72 hours
Cons:
Doesn't expand to a total 12 inches
Softer than expected, you really sink into it
Signature Sleep Memoir 12 Inch Memory Foam Mattress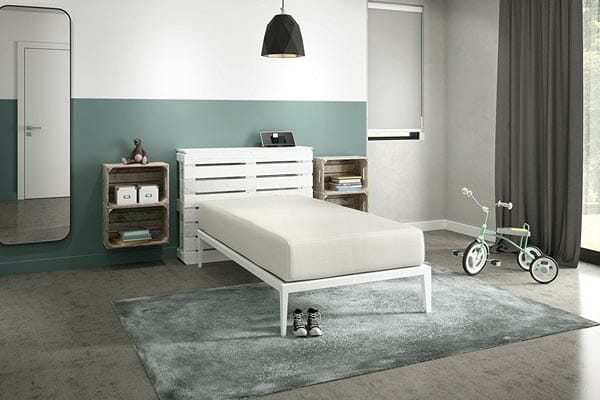 Signature Sleep Memoir 12 Inch Memory Foam Mattress – Check the price on Amazon.
This eco-friendly mattress is comfortable and minimized pressure on your body while evenly distributing your weight and giving you balanced support all night long.
Shipped rolled and compressed, this 12-inch memory foam mattress will arrive vacuum sealed but will decompress and be ready to use in just a couple of hours.
It also comes with a soft and easy-to-clean mattress cover that is constructed of a breathable knit fabric.
This memory foam mattress includes 3 ½ inches of comfortable memory foam in its top layer and 8 ½ inches of high-density foam in the next layer.
Made with low VOC CertiPur foam, this mattress is free from mercury, lead, ozone depleters, heavy metals, formaldehyde, and TDCPP, PBDEs, and TCEP ("Tris") flame retardants.
Pros:
Firm but comfortable
Will hold up well over time
Good value for the money
Cons:
Foam mattress that is on the cheap side
Will not help a stiff neck and back
Sleep Innovations Shiloh 12-inch Memory Foam Mattress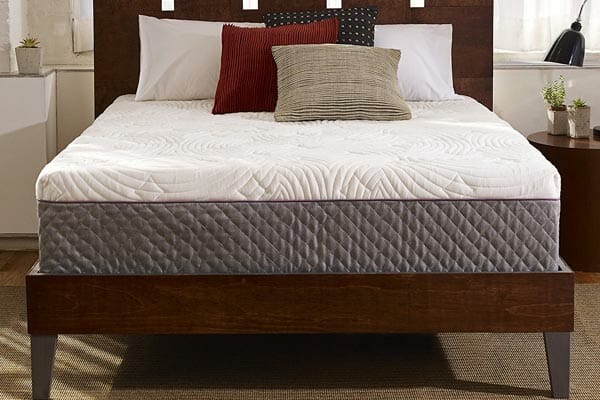 Sleep Innovations Shiloh 12-inch Memory Foam Mattress with Quilted Cover, Made in the USA with a 20-Year Warranty – Check the price on Amazon.
Resistant to dust mites, the Sleep Innovations Shiloh Memory Foam Mattress is naturally antimicrobial and includes a fire retardant barrier within the mattress.
Made in the USA, this memory foam mattress uses a manufacturing process that is environmentally friendly.
You will receive the mattress tightly compressed with only 48 hours needed for complete decompression.
This mattress understands that one size does not fit all and allows each body type to be supported giving you a good night's sleep.
Providing head-to-toe comfort, the Sleep Innovations Memory Foam Mattress keeps your body aligned while maintaining a comfortable temperature.
This memory foam mattress will help you enjoy a deep sleep while keeping you fully supported.
Pros:
No problems will smell
Firm mattress with mild contouring
Does not start sagging over the years
Cons:
Large divots show where you sleep
Not as firm as some users would like
Best Price Mattress 8-Inch Memory Foam Mattress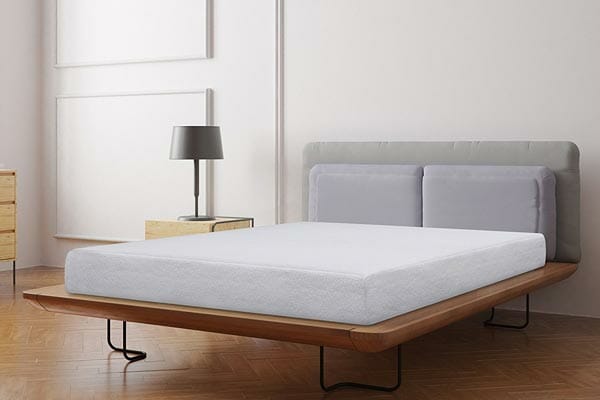 Best Price Mattress 8-Inch Memory Foam Mattress – Check the price on Amazon
With amazing comfort, the Best Price Mattress Memory Foam Mattress features memory foam that is body-conforming so you feel like you are sleeping on a cloud.
Providing a deeper sleep, the mattress includes a two-inch memory foam layer, two inches super soft foam layer that features a pressure relief system, and a layer of four-inch high-density foam.
With the pressure relief system, almost all your pressure points are eliminated guaranteeing you'll get a great night's sleep.
This is a CertiPUR-US Certified that comes with a ten-year warranty giving you amazing comfort and deeper sleep.
Pros:
Decompresses quickly
Firm mattress that comes with a removable and washable cover
Easy to set up, you can do it yourself
Cons:
Has a really strong smell
Breaks down over time
Classic Brands Ultimate Gel Memory Foam Mattress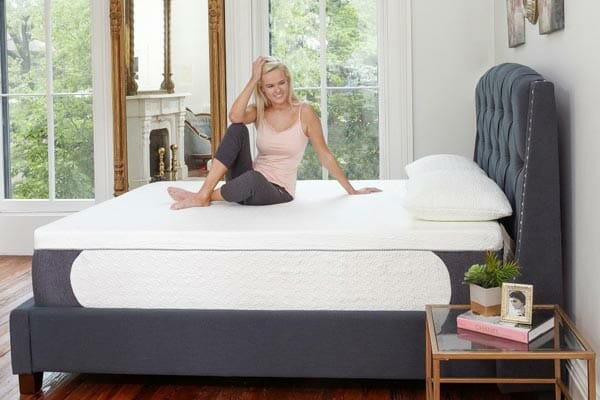 Classic Brands Cool Gel Ultimate Gel Memory Foam Mattress – Check the price on Amazon.
For those interested in a deeper night's sleep, the Classic Brands Ultimate Gel Memory Foam Mattress features high-quality pressure-relieving memory foam combined with a ventilated cool gel memory foam that is high-density.
This is a nicely tailored mattress that includes a fabric cover made of stretch knit with a waterfall edge and knit side panels that match.
The memory foam is ventilated allowing it to create a sleeping surface that is comfortable and plus.
The Classic Brands Memory Foam Mattress also has a high-density base foam that will relieve pressure points while conforming to your body giving you support that is unparalleled throughout the night.
The cool gel in the memory foam also regulates temperature while the hypoallergenic and antimicrobial memory foam naturally resists mold, allergens, dust mites, and bacteria.
This mattress meets CertiPUR-US program standards for durability, emissions, and performance, emissions, and durability.
This is a medium-plush firm mattress that also comes with a bonus shredded memory foam pillow.
Pros:
Breaks in well from really firm to just on the firm side
Helps with lower back problems
Pillows that are included are great and very comfortable
Cons:
Too firm
Indentations start to form when you sit or sleep in the same spot after a while
Dynasty Mattress Cool Breeze Foam Mattress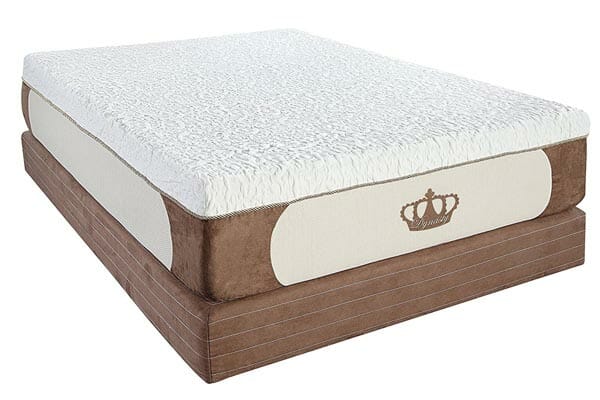 DynastyMattress Cool Breeze 12-Inch Gel Memory Foam Mattress – Check the price on Amazon.
Constructed with four layers, the Dynasty Mattress Cool Breeze Memory Foam Mattress gives you comfort and support for a good night's sleep.
This 12 inches Cool Breeze Mattress includes one three-inch gel foam layer, one four inches cool airflow foam support layer, and a five-inch high-density foam support layer.
Gel beads are infused into the high-quality memory foam supporting pressure relief while improving airflow for a cooler night's sleep.
This is a medium-firm mattress that is CertiPUR-US certified and has a thirty-year limited warranty.
It comes with a plush, white cover that has brown sued on the corners as well as a fire barrier, and a washable cover.
Pros:
Comfortable mattress with a gorgeous cover
Great value for the price
Decompresses easily in 72 hours
Cons:
Softens up over time and become uncomfortable
Only good for a spare bedroom where it isn't used a lot
Best Price Memory Foam Mattress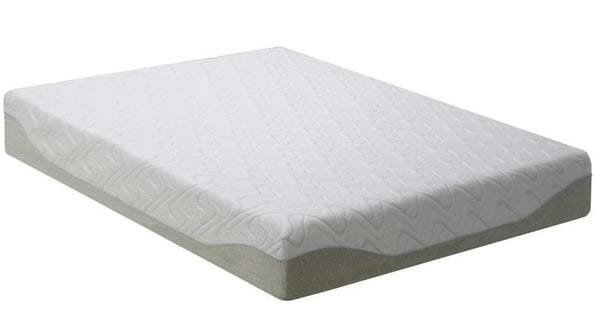 Best Price Mattress 11 inches Gel Infused Memory Foam Mattress – Check the price on Amazon.
If you want to sleep cooler, the Best Price Memory Foam Mattress utilizes the latest trends in memory foam giving you the innovation you need to get a good night's sleep.
This gel-infused memory foam mattress gives you the ultimate support for a rejuvenating sleep experience.
You get a customized level of support with better airflow that increases ventilation with its open-cell technology that uses thousands of gel beads.
The mattress includes a 1 ½ inch layer of gel-infused memory foam, a layer of two inches of ventilated comfort foam that is supported by 7 ½ inches of high-density base foam.
Combined, these layers give you comfort and guaranteed long-lasting durability. You also get a cover with a non-slip bottom that is made of knitted poly-Jacquard that features a satin piping border that wraps the mattress in a luxurious feel and looks.
This is a CertiPUR-US certified memory foam mattress that comes with a ten-year manufacturer warranty
Pros:
Allows you to sleep well throughout the night
Decompresses within about twenty minutes
Firmness is just right for a good night's sleep
Cons:
Too soft for some users
Feels like you are laying on a slant
One of the more important elements in the treatment of Fibromyalgia is finding the right mattress.
Sleep disturbances have such a negative effect on your daily functioning, mood, and lifestyle that it is vital to do your research to find the right mattress.
Make sure your mattress is soft enough, affordable, and, most importantly, meets the comfort level you need to get a good night's sleep.