We have reviewed some of the best endodontic motors. If you are in a hurry, then the table below gives a quick snapshot of the top 5.
Biomechanical preparation of the root canal is a crucial step in root canal therapy. Following the working length determination, the dentist efficiently shapes the root canal to receive a suitable filling material that results in an airtight seal. 
The primitive by-hand instrumentation techniques have been replaced almost entirely by rotary endodontics. Earlier, dentists had to use a series of hand files in a reaming and filing motion while repeating and maintaining patency of the procedure, but now dentists need only one. 
The advent of rotary endodontics has significantly reduced sitting time and increased efficiency and quality of dental treatment provision. Endodontic files and reamers are surgical instruments used by endodontists. 
The best endodontic motors are used by dentists to perform root canaling. It provides them the capacity to use specialized endodontic Nickel-titanium files. 
NiTi rotary instrumentation should be performed slowly with low-torque electric motors with constant and precise torque suited for treating the canal. Many of these motors offer customizable settings, automatic-reverse features, etc. designed to lessen file breakage, along with feature integrated apex locators. 
Preparing the channel by this method facilitates chemical disinfection and also provides a shape favorable for filling. All the premier brands of endodontic products have a specific automatic file system and endo-motor. 
Hence, they recommend using their particular model of endo-motor.  However, endodontic motors are wholly independent of the file system used. So it is possible to use an endo-motor with any file system, except for files having reciprocal movement.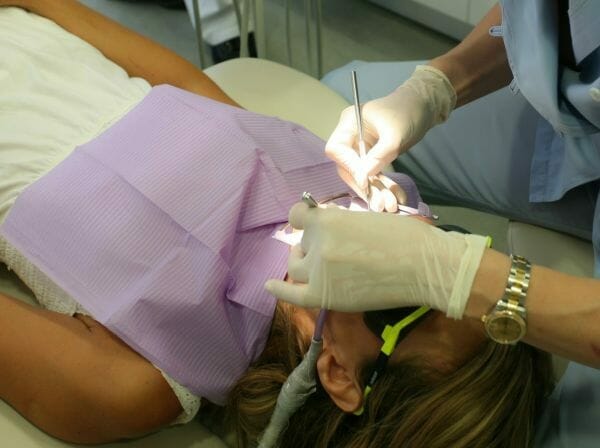 You may also like Can I Use Mouthwash With Dentures?
What Features To Look For in an Endodontic Motor?
Root canal treatment has become less time consuming and more patient-friendly due to enhancement in endodontic technology. With several different products in the marketplace, how do you choose the best endodontic motor? Below are some of the features you must look for while purchasing one.
Flexible File Library
Choose a motor with an open file library platform to use filing systems of your choice. You can use patient-specific file systems in cases that require similar treatment.
Looking for an endodontic motor that permits you to upgrade file systems is a great feature to keep up with the latest technology.
Reliable Safety Features
Choose a motor that helps reduce the chances of an unfortunate accident. One of the possible safety risks that you may face is your file reaching its torque limit. 
What you need in this situation is an auto-reverse feature, which will move your file in the reverse direction, thus reducing the load. This dramatically reduces the chances of breakage and perforation in the teeth. 
Another safety feature is ANA, which leads to the reduction of torque limit during the preparation of canals with complex anatomies.
Integrated Apex Locator
Advanced endodontic motors have an integrated apex locator to use your motor separately or combine with the apex locator, as per your need.
Wireless Motors
Wireless motors are an excellent choice for you if:
You require portability, 

You have several treatment areas, 

You need to move to and from rooms,

You need a unit to take to urgent home calls or a nursing home.
While choosing a cordless motor, make sure that you still have auto-reverse, multiple file libraries, and reciprocation functions.
Torque and Speed Limit
Make sure that your endodontic motor is set at the manufacturers' recommendations. Using it otherwise may compromise treatment and/or damage the instrument. In some cases, you can even build your sequence, thereby personalizing it as per your liking. You can run the process at your convenience or else go with the preset values.
Rotary and Reciprocating Endodontics
The best endodontic motors have the function of alternating or reciprocating the rotation of the files. These are most suggested for ease of treatment and saves time.  However, not all endodontic motors on the market allow you the flexibility to use such reciprocating systems. Ensure that your device can utilize rotary as well as reciprocating files systems. Below are some of the benefits of using reciprocating file systems:
Reciprocation offers increased cutting efficiency as compared to rotary.

Reciprocating files preserve original canal anatomy.

Reduces time taken to shape the canal.
You may also like Best Electric Toothbrushes for the Elderly
Best Endodontic Motors Reviewed
Below is the list of the 5 best endodontic motors, along with their pros and cons.
#1 COXO SOCO C-Smart-1 Pro EndoMotor
This product has an electro-motor made in Switzerland. The monitor comes with a colored LCD screen. It has a built-in contra-angle, and it is possible to adjust its rotational speed and torque to nine different settings. 
No products found.
It features a safety Auto-torque reverse function and works with a dual-frequency apex locator.
This product comes with a 2-year warranty period and is imported directly from the United States of America.  
Here we have a video that demonstrate how to use COXO SOCO C-Smart-1 Pro EndoMotor.
https://www.youtube.com/watch?v=hjjtvRFNd0Q
Pros
It has an in-built apex locator.

Adjustments to speed and torque limit are permitted.

It features an auto-torque reverse function for safety.

It has a 2-year warranty period during which the "Protector Dental store" will be held solely for shipping and any damaged spare parts for free to your destination.
Cons
It is not a wireless device.

It does not have a reciprocating file system.
No products found.
You may also like Can I Use Toothpaste On Dentures?
#2 Woodpex III Endodontic LCD Root Canal Apex Locator
This product features anti-interference, hence measuring results are not affected by different kinds of teeth or root canal environment. 
It utilizes a lithium battery, which can be recharged when needed. 
It also comes with a colored monitor display, and its visual angle can be adjusted flexibly. The integral panel comes with touch-inductive buttons that are easy to clean and prevent cross-infection. 
It has a buzzer that will alert when the file is less than 2mm closed to the tooth's apex. It battery offers a six month standby period, hence you don't need to recharge it often. 
Pros
It uses a rechargeable lithium battery.

Long-life reliable battery.

It has an in-built apex locator.

In-built buzzer to alert the user.

Easy to clean inductive panels.
Cons
It is not a wireless device.

It does not have a reciprocating file system.

The speed and torque of the motor cannot be adjusted.
You may also like Must Haves After Wisdom Teeth Removal
#3 Denshine Dental Wireless Endomotor
This product has an ergonomic design whose body is light-weight and portable. While operating, you can use a mini-push to alternate between the left and right reciprocation of the files. 
No products found.
It comes with a contra-angle handpiece to coordinate the machine files/hand files. There are six kinds of procedures (memory set) for selection. 
It can input the optimum data in advance, and modify it according to the working conditions in use. According to the set load point, it can automatically reverse and stop working and remember each program's different actions. 
Soft start and soft stop options are available so that the operation is convenient. At the same time, you can rest assured that the needle would not break if the root canal files encounter an instantaneous shock.
Pros
It is light-weight, portable, and ergonomic design.

It provides six modes of operation.

It allows you to alternate between left and right reciprocation.

It comes with a contra-angle handpiece & it is wireless.

It can withstand high temperatures and pressure during sterilization.
Cons
It does not have an in-built apex locator.

Speed and torque adjustments are not possible.

It does not have an auto-reverse torque safety feature.
No products found.
#4 COXO Surgical Motor C-Sailor pro Implant Motor
This product comes with a full touch large-size screen, which ensures that the treatment parameters are visible. 
No products found.
It features a graphical planting process selection that displays a variety of parameters at a glance for each planting process, to solve the tiresome setting. It has a powerful irrigation system with a built-in water supply system with a small size, excellent performance, and convenient connection. 
Four shifts water supply up to 150mI/min.  The sterilization of motors and cables is possible even at extremely high temperatures and pressure. 
The endo-motor is lighter and shorter that can work for hours without fatigue, and utilizes a new generation motor with a torque of up to 80N.cm.
LED lighting provides brightness up to 30000lux, which helps clinicians focus more on the treatment area, which helps increase surgical precision.  
The multifunctional pedal controller gives maximum freedom for using the handle for performing an aseptic operation.
Pros
Adjustable motor speed & torque.

Full touch big-screen display.

It comes with a 2-year warranty.

It features a multifunctional pedal controller.

It has a high luminous intensity LED light.
Cons
It is not a wireless device.

Extremely heavy, weighing up to 10kgs.

Bulky and non-portable.

It does not use batteries to function and requires a constant supply of electricity.
No products found.
You may also like Can You Soak Dentures In Mouthwash?
#5 EAST-Us Stock Wireless Cordless Endodontic Motor
This device has a high capacity long-life battery. It includes a lip hook, contra-angle, and file clip, all of which can be sanitized. 
No products found.
The monitor has an LCD panel along with access-friendly buttons, with an ergonomic design. It also allows you to save up to six different program working styles.
It offers three rotation modes, namely, auto-shutdown, auto stop, and auto reverse.
It is very light-weight and portable, with safety features like smart auto-reverse & alarm functions. When the rotary file reaches the preset torque, it will automatically withdraw until resistance is eliminated, thus providing safer treatment.
Pros
Very light-weight and portable.

Long-life high capacity battery.

Can withstand high temperatures of 135°C

It has auto-reverse as well as alarm functions.

It is a cordless device.
Cons
It has a small display.

It does not have an in-built apex locator.

It does not have a reciprocating file system.
No products found.
You may also like Best Electric Plaque Remover
Conclusion
Over the years, endodontic motors became indispensable materials in dental treatment. With technological advancements in metallurgy, manufacturers have strived to supply instruments with enhanced features. 
Endodontic motors have undergone several improvements concerning torque control and flexible kinematics in several directions. The adaptive motion has become a prerequisite feature for purchasing the best endodontic motors, that aim to mix the benefits of rotary and reciprocating motions. 
The matter of fracture of the instruments and failure of the endodontic treatment comes with an inaccurate torque and speed used for the device. 
The tools used with high torque are very active, and therefore the incidence of instrument separation would tend to extend. 
Whereas an unlimited torque would scale back the cutting efficiency of the instrument, and instrument progression within the canal would be complicated, the operator would then tend to force the device, which may cause instrument locking, deformation, or separation. 
Preclinical training and use of the rotary systems consistent with specific guidelines are necessary to scale back the incidence of instrument locking and deforming.
In this article, we have reviewed some of the best endodontic motors. In our opinion and research, the "COXO Surgical Motor C-Sailor pro Implant Motor" is the best choice among the various options that we have considered. 
It has everything you need in an endodontic motor. If you are looking for a value for money option, you may acknowledge "EAST-Us Stock Wireless Cordless Endodontic motor"; this product offers the best value at a very reasonable price point.