Congratulations! You just found out you're going to be grandparents. This is such an exciting time for you and your family.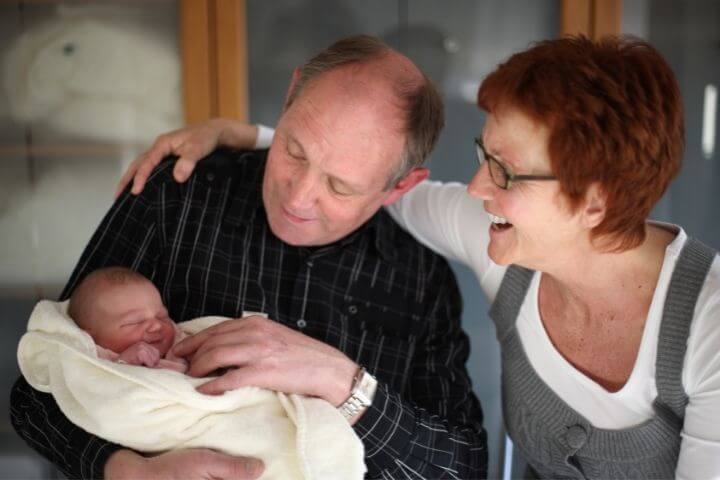 Since it's the first grandchild (and probably child) for the family you likely don't have a lot of baby-related things around. It's time to go shopping!
Almost everyone in your family, your in child-in-law's family and their friends are going to be excited for them and are going to be looking to buy gifts and spoil the baby. 
There are a few things you can buy for your first grandchild – both gifts and practical items that you can have at your home for when baby comes to visit. 
Buying gifts for a first baby, or even any baby really, can be really difficult. There's a balance between those cute, sentimental gifts you want to give and those gifts that are really functional and helpful for the new parents. 
You want to spoil your new grandchild, but want to make sure the gifts you give are really going to go to good use at the same time. Here are some ideas for fun and functional gifts you can get for your first grandchild. 
 A Homemade/Handmade Gift
Giving a gift that is homemade adds that little something extra to the gift, knowing it was made by you and with love. 
If you sew or knit you can make a baby blanket or even a quilt. This will be something that your grandchild can use for years to come, and it will always be that little something special they have.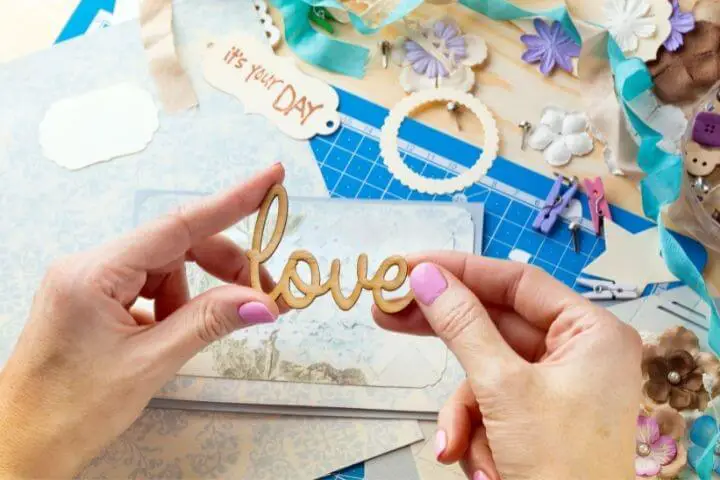 Instead of sewing, if your crafty and do scrapbooking you can document the pregnancy and first year or so of the child's life and put it all into a scrapbook for them to have when they get older. 
Collectibles
If there is something you enjoy collecting or you see something that is unique for the year your grandchild is born then this could be a neat idea to pick up for them so they will always have it.
Now this probably won't be super appealing for a newborn and it may not be a toy that a toddler or child can play with, but it could become a neat tradition for you and your grandchild. Now every year for their birthday you could add to their collection and get them a new piece to add. 
A collectible will create a bond between you and your grandchild so when they grow up they will always remember it as something you two shared. 
Newborn Photography Session
While there will be many pictures and video captured on cell phones when your grandchild is born, there's nothing quite like a professional newborn shoot. 
Hiring a professional photographer will give your family fantastic memories, staged in their home. With everything a newborn needs and all the costs associated with it, your child and their partner may not have the extra funds to pay for a professional photo shoot. 
On top of this, it's an experience they can enjoy together as a family within the first few weeks of baby being home. 
Books
Reading to your grandchild can start at any time – it's never too early. Also, with reading you can create a fantastic tradition and many memories together of reading their favourite books with you. 
Reading to a child has shown to increase their vocabulary skills and better literacy skills as they grow up. 
There are also several book clubs you can subscribe to where it will send your grandchild a new book every month (or at another designated interval). If you wanted to, you can have the book sent to your house so it's always there when they come to visit you. 
A Keepsake From Their Parent's Childhood
Have you been hanging onto some small keepsakes from when your child was little in hopes you could pass it on to their children?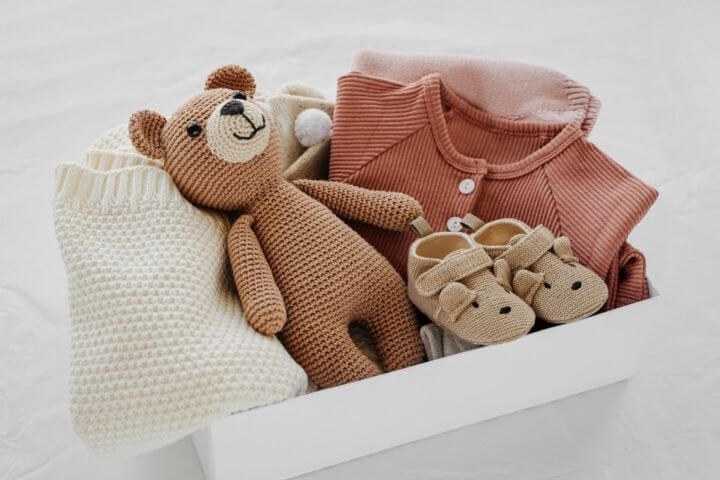 Well, this is your opportunity! If your child had a favorite blanket, stuffed toy or outfit then this would be a great time to pass it along to them so your grandchild will have it too. 
Tuition Fund
This won't be a gift that your grandchild can benefit from right away, but if you're open to something a little different than paying for future education is a great option. 
You can open an education fund in your grandchild's name and regularly deposit money into it – every birthday, or Christmas or other special day. 
Over time this fund will grow and give them a nice little cushion they can put towards education for their career. 
Nanny Services
While you may not have thought of yourself as a nanny, you may have the chance to help out a little bit.
The first couple weeks at home will be a massive adjustment – especially as this is their first child. 
If you are retired, or have the ability to, maybe you can offer to come over and help at night so the new parents can get a little bit of sleep, 
You may end up a little sleep deprived after the end of a few weeks, but you will get some amazing one on one time with your grandchild and create a very special bond between the two of you. 
On top of that, you'll be giving the new parents a chance at some (likely) much needed sleep so they'll be really appreciative of your help. 
Meal Preparation
Sometimes the best gifts for a new grandchild are gifts that aren't really for the baby at all. In fact, they're meant to help the parents as they adjust to their new roles. 
Doing things like preparing some meals that they can easily reheat will be really helpful when they're short on time or trying to adjust to a newborn at home. 
This also means they aren't ordering takeout all the time and they can get a home cooked meal between feedings and napping. 
Cleaning Service
Who doesn't love having a clean home? Well, with a newborn that might not happen as well as it did before. 
You may want to consider hiring a cleaning service to come into their home for a little while until everyone has adjusted into a new routine. 
You can decide to have the cleaning service come once a week or every other week – the timeline is really up to you. 
Waiting for the Baptism
Sometimes grandparents want to wait a little while to give a gift because they know the new parents will be receiving a lot of gifts from other family and friends.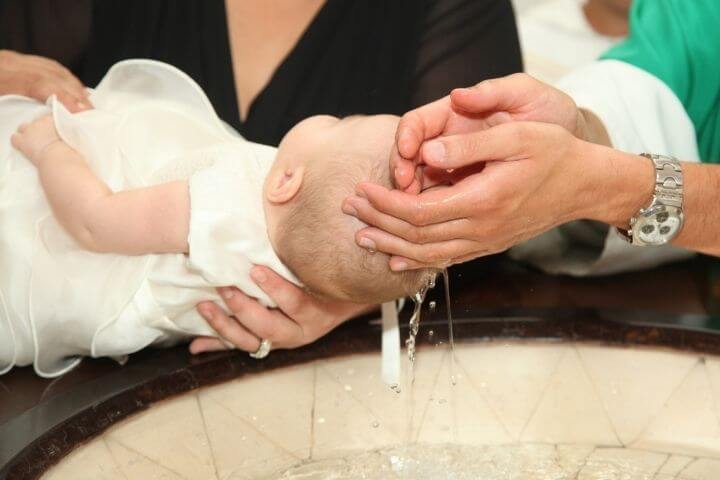 When your grandchild is baptized it's a great time for grandparents to give a nice gift if they wanted to hold off when their grandchild was first born. 
So, How Much Should Grandparents Give at a Baptism?
The amount is really up to you – which sounds vague but there isn't a right or wrong number.
Typically close family and friends will give anywhere between $150 and $200, but that amount is really dependent on your financial situation. 
The best advice is to give the amount of money you feel comfortable with and what works for your financial situation. 
Bottom Line
When it comes to giving a gift to your first grandchild it's important to remember the precedent you're setting. 
Whatever it is that you give to this one, you should be able to give to any other grandchildren you may have in the future. 
If you are really giving with your first grandchild and then other grandchild don't get as much of your time or there isn't as much thought put into their gifts then they may feel left out. 
The good news is that you have some time to decide what it is you want to get for your grandchild. You may want to take some time to really think about the best gift for them. 
This will also give you the time you need if you're going to make them a gift – like a quilt – so it will be finished in time for the baby to enjoy it. 
You can also always ask the parents to be what they want. There may be a certain gift or item they really want that they haven't told anyone about or feel bad for asking for. 
Reach out to your child and their partner and ask what it is they need or want, and what would be the best gift for them. 
Above all, it's important to remember to enjoy the time with your grandchild when they come. You will be able to build so many memories and a great bond with them that they will have for the rest of their life. 
Help out as much as you can in the first little bit and help the parents adjust to the new routine of being a parent. You may also want to set up a crib or sleeping space in your home for the baby so they can come stay with you without the parents having to transport a bunch of stuff around all the time. 
Whatever gift you decide on, your grandchild is so lucky to have you in their life and they're going to love spending time with you in the years to come.