When a business or government agency has parking spaces outside of its building it must provide accessible parking spaces for its guests and customers.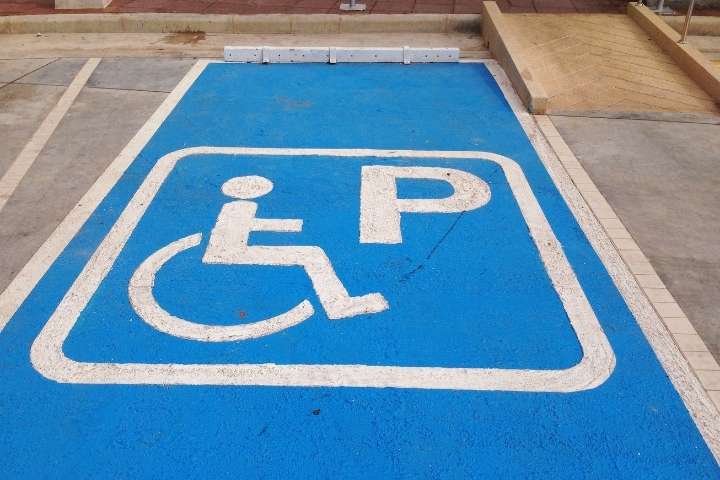 These parking spaces must meet the requirements set out by the ADA for accessible parking to ensure that those who need the accommodation get it. 
If the parking lot doesn't meet the requirements it will need to be repainted, which is fairly inexpensive to do for businesses. 
So, does your business meet the requirements set forth by the ADA for accessible parking? Well, here's what you need to know about it. 
How many parking spaces in your lot need to be accessible?
The number of accessible parking spaces needed for your business' parking lot will depend on the size of your parking lot and the total number of spaces you have available to you. 
At least one of every six of the accessible parking spaces must be van accessible. You can make more than one of them van accessible but at least one sixth of the accessible parking must be able to be used by a handicapped van. 
Are all parking requirements the same for all businesses?
When it comes to hospitals, outpatient facilities, rehabilitation buildings, physical therapy centres or residential facilities the requirements for accessible parking are very different than private businesses or government agency parking lots. 
Where do the accessible parking spaces need to be located?
When it comes to placing the accessible parking spaces, these spaces must be placed along the shortest possible route to get to an accessible entrance to the facility or establishment. 
If the building has multiple entrances, then the accessible parking spaces must be spread out amongst the parking lot and placed so that they are along the shortest route to each accessible entrance. 
Overall, the handicap parking spaces must be closest to the entrance ramps and accessible entryways. These paths must be clear of any obstacles or obstructions so that it's as easy as possible for those who need assistance getting from their vehicles to the entrance of the building.
You might like to read: How To Make Your Car Wheelchair Accessible?
New parking structures
When new parking facilities are built, there are very few exceptions for not meeting the minimum ADA guidelines and standards.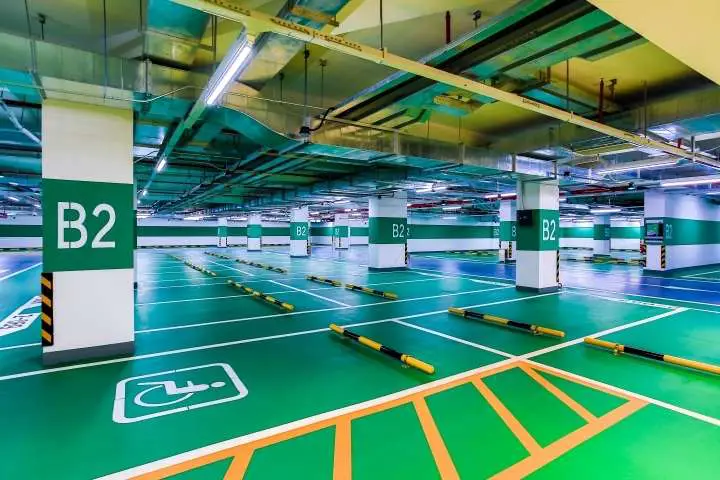 Due to the fact that a brand new structure or facility is being built, the expectation is that they will be able to meet the requirements needed and can custom design what is needed. 
If there is an existing parking structure that needs to be modified then the standards are a little different because the renovations need to be made within pre-existing conditions. 
What if there's an existing parking area?
If accessible parking spaces need to be added to an existing parking lot or structure, then the spaces must be on the ground level most closest to the accessible entrances. 
There must be an accessible path or walkway added so that those using the accessible parking spaces can get to the accessible entrances. 
This accessible route must cannot have any curbs or stairs to it and must be at least three feet wide in all places to accommodate wheelchairs and other mobility assistive devices. 

Further, this path must stable and slip-resistance surface. The slope of this pathway cannot be any greater than 1:12. 
If the parking area is a parking structure or garage, the van accessible spots are allowed to be placed in one area on the same level. This is because handicap vans are often taller than regular vehicles and therefore may need special height accommodations. 
If this is the case, the parking structure may have a higher height clearance on one level to allow for these vans to get into the structure. These spaces, if that's the case, should be placed along the closest and direct path to exiting the parking structure and getting to the accessible entrance(s) of the building. 
How wide do van accessible parking spaces need to be?
There is a difference between accessible parking, and van accessible parking. 
Handicap parking is for those with mobility difficulties and need to get to ensure they are able to get to the building easily. 
However, van accessible parking allows extra space for handicap vans to get out of the van and transfer to a wheelchair. Parking spaces designed to be accessible must be at least 132" wide with an 60" aisle in the middle.
In some cases, the van accessible parking can be narrowed to 96" as long as the adjacent aisle is also 96" in width. 
Two accessible parking spaces are allowed to share an aisle for exiting the vehicle as long as it isn't angled parking. 
You might like to read: Does Medicare Pay For Hand Controls in Automobiles?
What size does ADA accessible parking need to be?
For the standard accessible parking spaces, the size requirement must be at least 96" wide and should run the full length of a regular parking space. 
Additionally, there should be an aisle that is 5 feet wide adjacent to the parking spot and it should lead directly to an accessible ramp or entranceway. 
This aisle is used for those who need lifts, wheelchairs or other mobility assistive devices. One access aisle can be used by two adjacent parking spaces. 
What kind of signage is needed for ADA accessible parking?
Every accessible parking space must be indicated with signage and a clearly marked international handicap symbol. 
The signs have to be at least 60" off the ground so that people can easily see them from their vehicle. 
Maintaining ADA accessible parking
The accessible parking spaces at your facility should always be kept clean and free of excess debris as much as possible.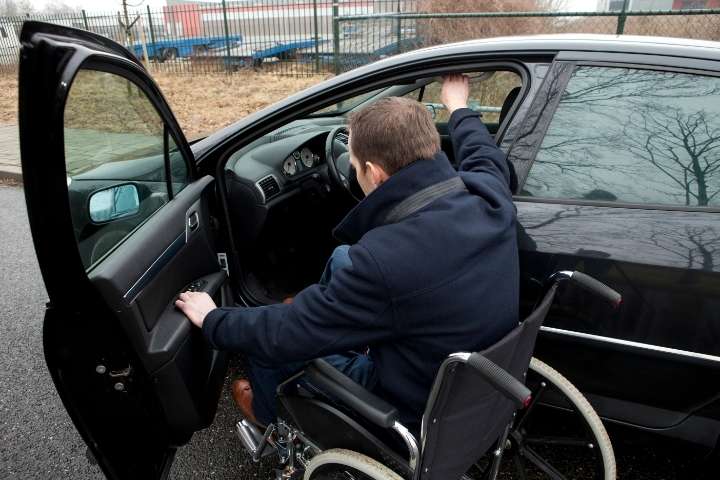 For those using these spaces, they have a physical disability so it's important to make it as easy as possible to access your establishment without any harm to themselves. 
Any kind of cracks or potholes should be repaired immediately as these can be a serious hazard to those using wheelchairs or mobility assistive devices. 
If someone falls and hurts themselves using one of your accessible parking spaces and it was because the space wasn't maintained properly it can open your company up to serious lawsuits and liability claims. 
Local rules
While the ADA has given their regulations for accessible parking there may be other local rules and bylaws that business owners need to follow in order to make sure their parking spaces are handicap accessible. 
If you are not sure about the local rules for having handicap spaces in your town or city, you should contact your local authority to ensure you are doing everything that you need to do. 
If you go ahead without confirming the bylaws your business could be subject to serious fines and they may even shut down your parking facilities until you have it fixed to meet the guidelines. 
You might like to read: Is It Legal to Drive With Hand Controls?
Following the guidelines
The dimensions given are the minimum required guidelines for having an ADA compliant parking space at your facility. 
Of course you can always go above and beyond what this is asking so that the people visiting your facility have the best experience possible. 
Whether you are a property manager, store owner or facilities manager it is up to you to make sure you know the general rules and guidelines of your city or town. 
 Being up to date on the rules of accessible parking will benefit the members of your community so they are able to get to your place of business. Knowing these rules will also help your business or property to avoid serious fines. 
Each state is responsible for establishing the criteria for who receives an accessible parking permit for individuals with disabilities. The enforcement of these permits is usually left up to the state or local authorities and it is not up to the owner of the business or facilities to police this. 
There may be exceptions, like under the Fair Housing Act, that requires housing providers to make reasonable accommodations for people with disabilities where designated accessible parking spaces are not available.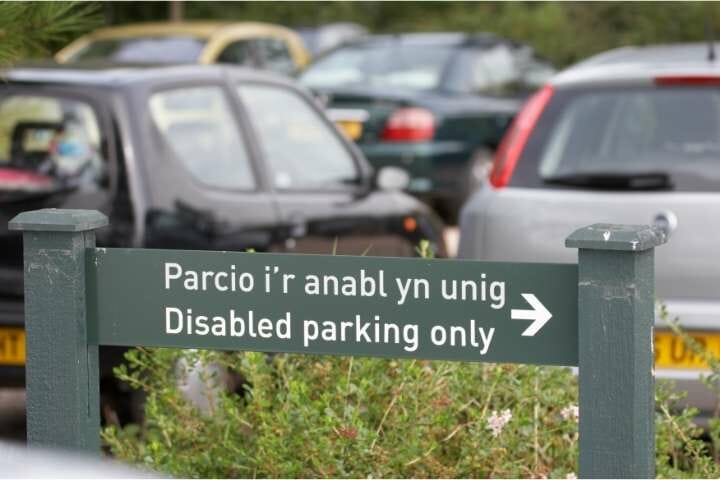 Exceptions to accessible parking
There are some parking lots and facilities that do not have to follow the ADA guidelines for accessible parking. 
Facilities that ae used only for buses, trucks, delivery vehicles, vehicle impound or law enforcement vehicles do not have to have accessible vehicle parking. 
These types of parking facilities, if they are accessible to the public, they must have an accessible parking loading zone. An example of this would be for vehicle impound lots and for people to come and pick up their vehicles that may have been taken previously. 
You might like to read: ADLs And IADLs – A Guide For Caregivers
In summary 
The requirements for an ADA parking space are that it is as close to the accessible entrances as possible, and that it is at least 96" wide. Van accessible spaces must be wider to accommodate wheelchair lifts coming in and out of the van. 
It is up to the facility managers or business owners to ensure that they have the required number of spaces available as per the ADA regulations. 
If you have any questions about whether your accessible parking meets all of the guidelines and local bylaws, contact your local municipality to have them verify the regulations you need to meet and address any concerns you might have.