As our loved ones age they may start to need just a little extra care or help with their daily tasks and errands they need to run. In some cases seniors may need full-time care due to an advanced illness or an accident that left them unable to care for themselves.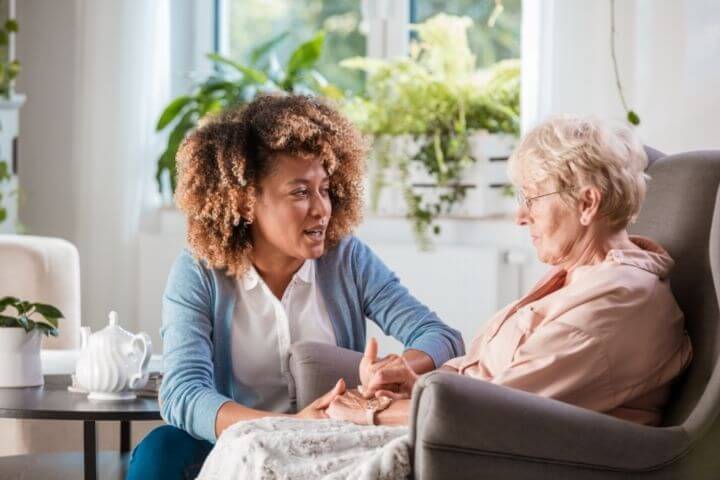 The amount or type of care that one elderly person will need will look different and be different than what someone else requires. Thankfully, there are different levels of care available for the elderly based on their individual needs and how much support they may have from family and friends. 
Nursing Homes
When it comes to talking about care for the elderly, many times our minds will automatically assume someone is talking about going into a nursing home. 
These long-term care facilities are for elderly people who require full-time, around the clock care and are completely dependent on caregivers. 
These homes, or facilities, will employ licensed nurses to provide 24/7 care so there is always someone around to provide the appropriate medical care your loved one needs. 
In some cases, a home may provide short-term care when some type of rehabilitation is needed (like when someone has broken a hip and needs some extra care before returning to their home). 
In most cases, though, residents at these homes have complex medical conditions that may be progressing quickly and/or severely and therefore they have very high care needs. 
The residents in these homes will usually either share a room with one other resident, or have their own private room, but will enjoy meals and recreational activities in central locations around the home so they can socialize with others and not be completely isolated. 
Paying for this kind of care can get expensive as they are providing complete care for your loved one. There could be state funded homes that provide care for those who may not have private insurance. Additionally, though, if you have private insurance these benefits may help by subsidizing the cost of paying for this kind of care. 
If you are considering this for your loved one, there are many options for care and you may need to do a little bit of research to determine the best option for your loved one. This could include visiting a couple homes to see what their amenities are and how your loved one feels being there. 
Assisted Living
Sometimes assisted living and nursing homes get intertwined as the same kind of care, but they really aren't. 
Assisted living, or assisted care communities, are designed for people who are really not able to live on their own safely but are not dependent on 24/7 medical or nursing care.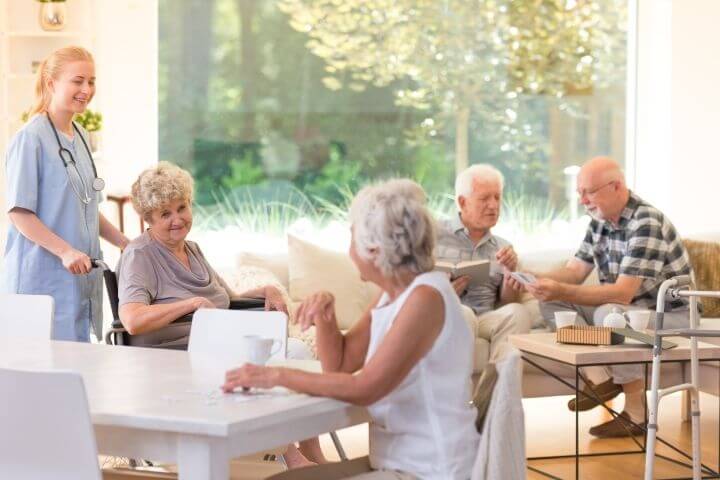 These communities are often apartment buildings so that each resident has their own individual space (almost like a bachelor or one bedroom apartment) and they may have their own small kitchen and likely their own bathroom. The building itself will usually have a dining room so the residents can enjoy eating with the other residents there. 
The assisted living part comes in where the community will have a full-time kitchen staff so that your loved one doesn't have to prepare their own meals (and you know they are for sure eating healthy, nutritious meals). Oftentimes, there will also be services like laundry and prescriptions so that residents who live here don't have to worry about doing these things themselves. 
Additionally, there is usually a housekeeping service to come in a clean-up each apartment. This service also acts as a way to check in on the residents, so you can feel a little extra peace of mind that someone will be looking in on your loved one and so if there are any issues or an accident happens (like they slip in the shower) there is someone there when you can't be. 
These communities also usually have scheduled social activities for their residents to participate in and may even arrange shuttle transportation to local malls or outings for everyone to enjoy. 
If you're worried about your senior loved one being isolated from their friends, and they may be depressed that they're alone, assisted living in a great option to make sure they are around people they can enjoy time with and are not left alone (when it's not safe for them to be). 
Many assisted living communities are not funded by insurance, so they will require private payment or private benefits to enjoy. You may need to look into the options and exactly how much it costs to make sure this is something your loved one can do. 
Memory Care
This is a very unique type of care provided especially for people who have been diagnosed with Alzheimer's or dementia. 
This kind of care may be part of a nursing home, but in an area that provides care exclusively for residents with impaired memory. However, there could be facilities that are specifically dedicated for this type of care.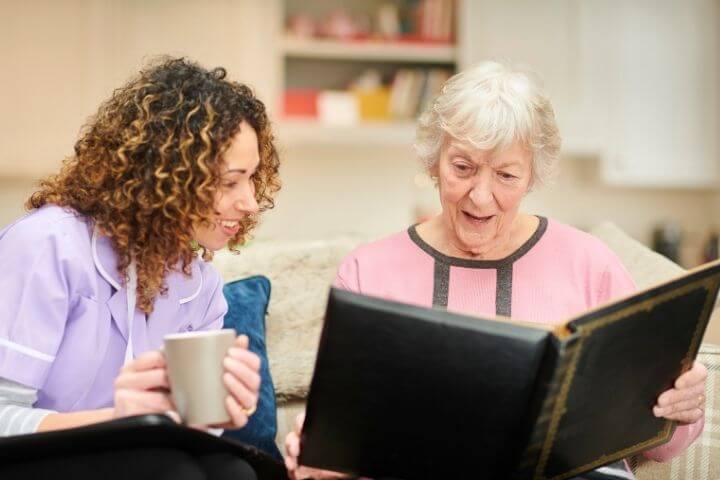 The type of care patients with these illnesses require is much more specialized, and they will always need around the clock care. It also requires much more planning and care as to the types of activities they can participate in that won't affect their safety but will also make them feel comfortable while participating. 
There could be a wait list to get into these homes because they have such specialized care and usually there are not the same number of spots available that they would have for a regular nursing home. 
If your loved one is living with an illness that impairs memory or cognitive function, and you feel as though it's not safe for them to live on their own, you can reach out to their doctor or medical team to see how you might go about getting them into this type of specialized care. 
Their doctors will have the resources and can help refer you to the right contacts you will need to go about this kind of care. 
Home Care
The elderly doesn't have to go right from being ok on their own right into a nursing home – there is a step in-between. This step is called home care. 
Home care is designed for when a person doesn't need full-time care but they do need a little bit of help with some things around the house. 
Often times, home care workers will help your loved one with their laundry, meal preparation, bathing and making sure they are talking their medications on time. Sometimes, if your loved one doesn't drive, they can help run errands or take them to appointments when you are unable to take them. 
Additionally, this kind of care can double as extra companionship when you're worried that your loved one may feel isolated or depressed living alone.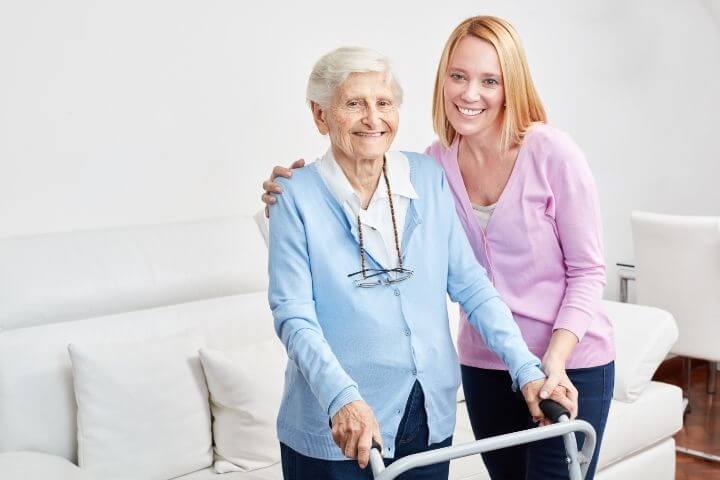 As much as you try, you cannot always be there for your loved one so knowing that someone is coming to see them – even a few times a week – can make a big difference and really help make sure your loved one is able to stay in their home for as long as possible. 
What's great about home care is that it's often funded by insurance or even the state so you don't have to worry about too much cost coming out of your pocket. It's put in place to help keep people in their homes instead of moving into full-time care (like a nursing home) when they don't really need to be there. 
Home care workers can come a couple times a week or even once a day – depending on the care and schedule you set up – so you know your loved one is getting the care and attention they need, and there is someone checking in on them when you can't be there. 
 Residential care homes 
This type of care is far less common, and sometimes really hard to come by but it's definitely helpful for those who use it. 
This type of care is provided in private homes that are designed to provide seniors with care, but in a home-like setting so they feel much more comfortable. The number of people living in these homes is going to be far less than those who may be in a nursing home setting, though. 
The cost for this kind of care is often not covered by insurance or funded by public health, so it will be up to the individual to pay for the care. 
Short-term care
If your loved one is recovering from surgery or maybe you just need a break as their full-time caregiver, you can also look into some short-term care. 
In these cases, respite care can provided for as little as a week or maybe as long as month. When this happens, your loved one will stay in an assisted living community or nursing home where care will be provided that meets their needs – and you can take a little break. 
If it's short-term care because they had a surgery and need some care before they go home, your loved one may have to go into a specialized rehabilitation facility to make sure they get the specialized care they need. This kind of care will make sure they are safe and able to go back home, and have completely healed from their surgery.